Winnipeg Jets AAA Classic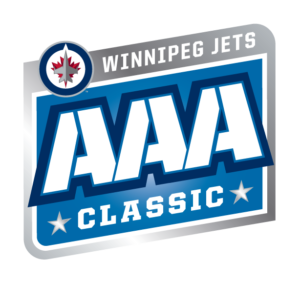 The fifth annual Winnipeg Jets AAA U15 Classic is put on in partnership with Winnipeg AAA Hockey and True North Sports + Entertainment. The tournament welcomes U15 AAA teams to compete at the hockey for all centre – the official training facility of the Winnipeg Jets. Our goal is to bring the top talent from across North America to compete in a world-class facility.
Winnipeg Jets U15 AAA Classic – 2022 Registration
Thursday, November 24 – Sunday, November 27, 2022
5 game guarantee
Games will be three-20 minute stop time periods
Online player and team stats
WHL and USHL Scouts invited
Press Box Sports Bar and Restaurant open during games
Sanctioned by Hockey Manitoba
Hockey Canada guidelines apply
2021 Highlights:
Competitive Games
Over 70 Scouts in attendance
Player and Coaches packages
Ceremonial puck drop by Winnipeg Jets Alumni
Teams from USA, Alberta, Saskatchewan, Ontario, and Manitoba
Click here for 2022 tournament schedules, stats, and results >
Registration Cost:  $2,500.00 +GST
To secure your teams application to participate in the 2022 WINNIPEG JETS U15 AAA CLASSIC click here for online tournament registration 
For more information, please contact Dean Court at dcourt@tnse.com or (204)926-5881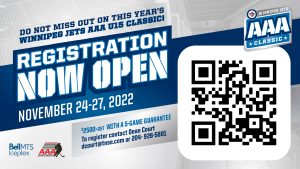 ---
Winnipeg Jets U18 AAA Classic – 2022
COMING 2023!
4 game guarantee
Games will be three-20 minute stop time periods
Online player and team stats
WHL and USHL Scouts invited
Press Box Sports Bar and Restaurant open during games
Sanctioned by Hockey Manitoba
Hockey Canada guidelines apply
Click here for 2023 tournament schedules, stats, and results >
Registration Cost:  $2,500.00 +GST
Stay tuned for more details on the 2023 U18 Winnipeg Jets AAA Classic
For more information, please contact Dean Court at dcourt@tnse.com or (204)926-5881