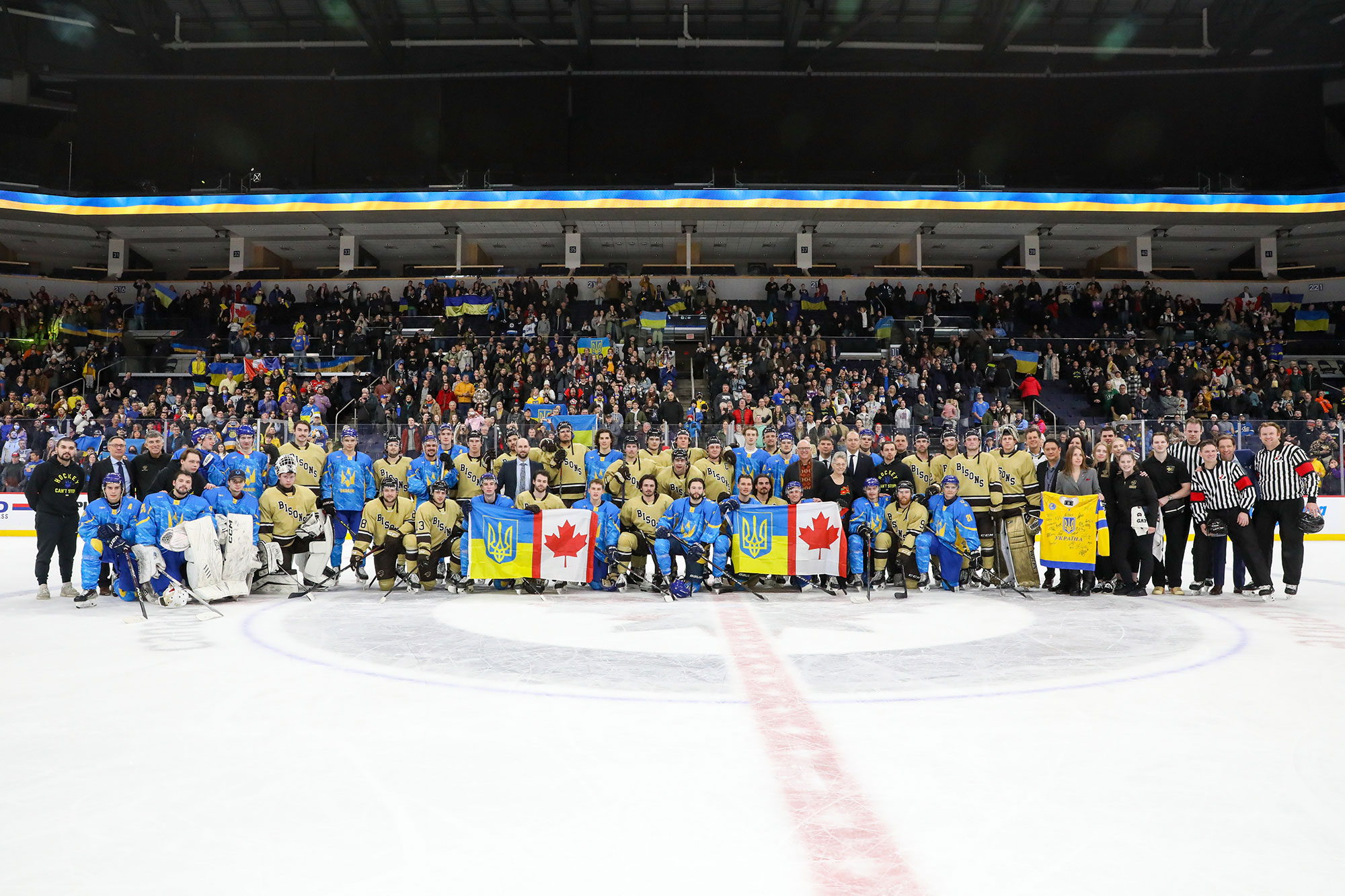 written by Mitchell Clinton
Jets Hockey Development On-ice Instructor Devin Himpe didn't have a front row seat to the Hockey Can't Stop tour finale between the Ukraine U25 national team and the University of Manitoba Bisons. He actually had a better one.
The 34-year-old was on the Bisons' bench for the memorable night, one that he says will stand out in his mind forever.
"I'll remember that night for a long time," he said. "Everything from the anthems, to the reason the game was taking place, to even just coaching at Canada Life Centre, it's something that will always stand out for me."
The product of Dauphin, MB has been a full-time instructor with Jets Hockey Development at hockey for all centre for several years and – as if that's not enough hockey – he's also been an assistant coach with the Bisons for the last eight seasons.
So combining his love of the game with the opportunity to be part of a special evening, and getting to take his coaching skills from hockey for all centre to Canada Life Centre was something he couldn't wait to be part of.
On top of those two things, there is also a little bit of Ukrainian heritage in Himpe's family, as well as his wife Tara's.
For a seven-year run in his high school days and well into his time as a student at the University of Manitoba, Himpe stayed involved with Canada's National Ukrainian Festival, held annually just outside of Dauphin.
"My mom was a big part for a few years in helping to run the National Ukrainian Festival," he said. "Being able to see the culture on that side of it – the dancing, the singing, and a lot of Ukrainian people coming together, and how amazing those people were – I knew it was going to translate into this game as well."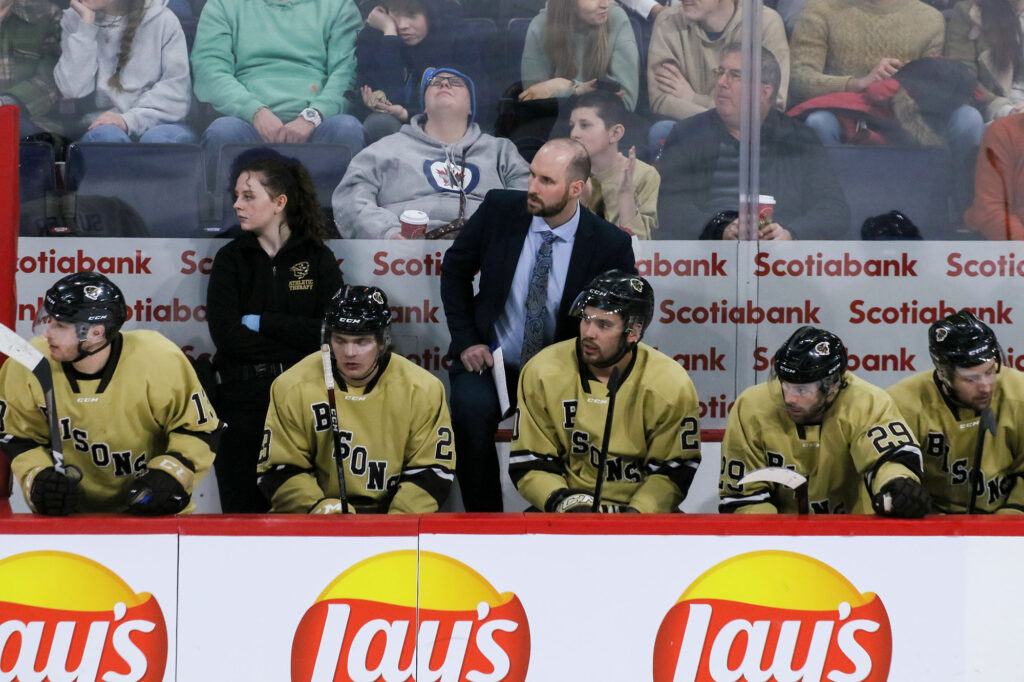 The Bisons coaching staff – head coach Mike Sirant, Himpe, and fellow assistant coach Ryan Bonni – started hearing about the tour in late October.
"We definitely wanted to be part of it and get on it pretty quick. Mike decided to talk with Mark Chipman and discuss getting True North involved," said Himpe. "For myself, working for True North through Jets Hockey Development and hockey for all centre, I was really excited to be able to come to Canada Life Centre, have the game be here, and have the practices be here. It was exciting."
The night was everything the players, and Himpe, could have hoped for. As both a minor hockey development coach with Jets Hockey Development and as a university hockey coach, Himpe regularly gets to see the passion Manitobans have for all levels of hockey. But the nearly 8,000 fans that filled the lower bowl and the atmosphere they created is something that he won't soon forget.
The final score wasn't what Himpe and the Bisons were looking for, as Ukraine earned a 5-1 victory – their first on the Hockey Can't Stop Tour after losses to the University of Calgary, Alberta, and Saskatchewan.
But as Sirant put it after the game, this matchup was always about more than hockey, and he felt the nearly 8,000 in attendance (including almost 4,000 Ukrainian refugees), knew that as well.
"We talked about that in the dressing room. Our players can feel really good about what they contributed to making this game happen," said Sirant. "So many people are going to benefit from this, not only the Ukraine team, but also people in Ukraine from the humanitarian aid that will be derived from this game.
"To play a small role in hosting this event had special meaning for me, to know that people in Ukraine were going to benefit, and this hockey team – Ukraine's hockey team – was going to benefit from it."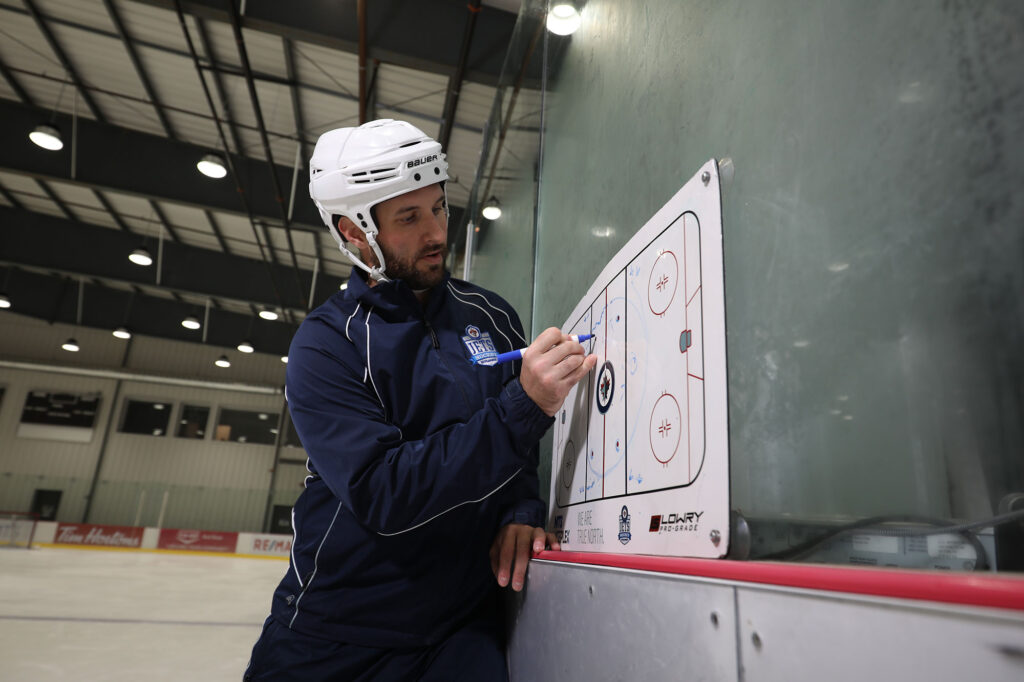 Not unlike his role with Jets Hockey Development – which is dedicated to providing every program participant the very best opportunity to develop as a hockey player and as a person – there was development both on and off the ice for the players, coaches, and staff on the Ukrainian squad as well on the Bisons team.
On the ice, the main purpose for the Ukrainian team was to face university level competition ahead of the 2023 FISU Winter World University Games, held in Lake Placid from January 12 – 22, 2023 – an event Himpe attended overseas in 2019 with Team Canada.
"It's probably the closest thing to an Olympics that you can get into," he recalled. "You're there with every other athlete – downhill skiers, curlers, snowboarders, bandy players, hockey players, male, female – it's everybody.
"There is an athlete village, you're eating with other countries, you're carrying your phone around with Google Translate a lot because sometimes you don't know what they're saying – and they don't know what you're saying. It was a very cool experience."
Off the ice, it was about showing players and fans – including the nearly 4,000 Ukrainian refugees in the stands in downtown Winnipeg – that their country is still fighting even as the war continues, and that people all the way over in Canada care for them and want to support them.
Thanks to the efforts of so many people, including Himpe – mission accomplished.