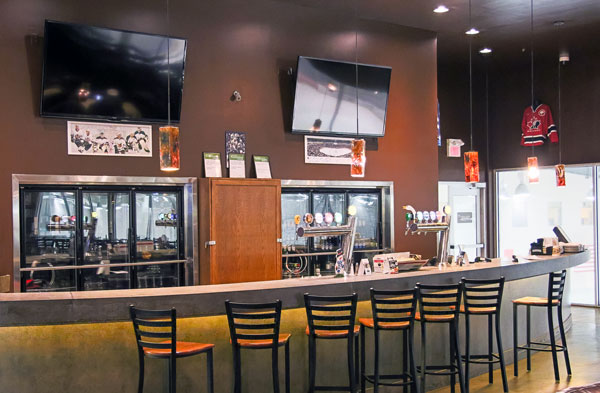 Restaurants are always trying to find ways to attract more customers but for The Press Box Restaurant and Sports Bar, located on the second floor at the hockey for all centre, it's the building they're in that usually does the drawing for them.
Though you won't typically find people going to The Press Box simply to go out for dinner, it's the hot spot to grab a bite for anyone watching or playing hockey at the Iceplex. When there is a hockey tournament in the building, head chef Leonard Church says it doesn't take long for the restaurant to fill up.
"During one tournament, we had people waiting at the door to get in," said Church, who was formerly a chef at the Hilton, and served as the head chef for the Manitoba Winter Games in Thompson this year.
Though the restaurant is a convenient spot for players and fans alike to fuel up, The Press Box's largest area of service is provided as a caterer. On top of catering for the Winnipeg Jets and Manitoba Moose players at the Iceplex, they feed the Winnipeg Jets Hockey Academy, Camp Manitou, and hockey teams after their games, whether in the restaurant or to-go.
"Every time is busy time," said Church. "It just turns from one thing to another. In the summer we have camps in here, with around 250 kids a day. Then we get into hockey season with the Jets doing training camp, so then we have 120 guys a day for a couple meals. Then the restaurant opens up again in September, and we're busy with that."
With seating for more than 300, a full-service bar, and the ability to close off the restaurant for a more intimate setting, The Press Box offers an accommodating and versatile space for meetings and special events, and also caters to many functions in all areas of the city
"Most of the events we host are annual events," said Jessica Rosenbaum, Event and Marketing Coordinator for the hockey for all centre. "Some events are one-offs, but tournaments are typically annual, so we know what to expect."
Both Church and Rosenbaum noted that the quality service, flexible staff and accommodating catering menu keep groups coming back year after year.
"Word of mouth travels fast," said Church. "Especially within the hockey community. Between the events and patrons at the Iceplex and off-site catering, we're always busy."
For team meals, snacks and appies while watching the game on one of the big screens, or a cold beverage, The Press Box Restaurant is open 5 – 10 p.m. Monday through Friday, 11 a.m. – 10 p.m. Saturday and 11 a.m. – 9 p.m. on Sunday.
For more information, visit:
https://www.hockeyforallcentre.com/our-facility/press-box-restaurant/.