The Press Box Restaurant & Sports Bar is your team headquarters! We specialize in pre-game, post-game and in-between game team meals and banquets so you don't have to wait in line, or in the cold!
Interested in holding a Catering Event?
The Press Box Restaurant & Sports Bar offers catering services to groups large and small. Our caterers are experienced in planning, customizing and executing functions of all kinds so you can relax and enjoy our delicious creations and cocktails. From corporate to casual, let us make your event a success!
The 445 person Press Box Restaurant & Sports Bar accommodates as many as 445 people, or for a smaller gathering, book our 50-person meeting room for your special event
Birthday parties
Weddings
Seasonal Events and Holidays
Team Meals
Corporate Seminars and Meetings
Team Building Events
The Press Box team also offers exclusive off-site catering to Camp Manitou, located five minutes away in Headlingley. Camp Manitou is a stunning outdoor camp boasting idyllic scenery, a modern rustic 2020-built lodge with seating for 200, a full-sized gym, and a host of outdoor activities. It is perfect for corporate team building and school excursions alike. Ask us how to book today!
---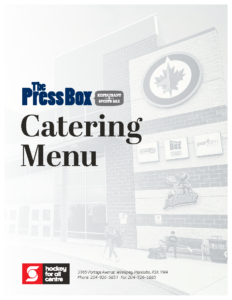 Catering Menu & Booking
If you are interested in booking an event or for more information, please contact Andrew Szabo at aszabo@tnse.com
To download a copy of our Catering Menu please click here.
---