Each year, the NHL Coaches Association offers a coaching clinic the day before the NHL Draft where coaches from around the world join in the same room to discuss hockey with some of the best minds in the game. Clinics are important for me as a Development Coach to continue to expand my knowledge and to work closely with other coaches. By having a solid grasp of team concepts, I can implement specific individual skating and skills related to their team systems. This year, the annual NHL coaching clinic was held in Vancouver on June 20, 2019.
The day began with fantastic presentations covering a wide range of topics to help coaches learn more in-depth information about detailed areas of the game. Presentations covered:
Importance of a pre-scout
Skill acquisition
Creating offense
Hot stove discussions with current and past NHL coaches (including coaching legend Scotty Bowman)
Developing defensemen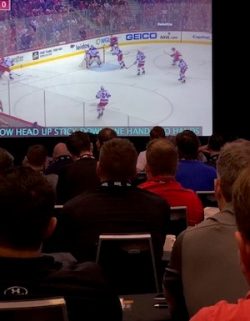 The afternoon is the time of the coaching clinic that I always look forward to the most. This segment includes small group breakout discussions to work in proximity with other high-level coaches. For me, the afternoon is a time when I can ask questions and get immediate answers regarding what coaches are teaching and what their expectations are from players. By doing this, I can better prepare sessions for players to help them continue to improve and play at the highest levels. When I am able to learn about coaches' team systems, I can then look at what skating or skills would be relevant to fit into those systems. I was fortunate this year to sit with current NHL coaches, two WHL coaches (one of which will coach the Team Canada U18 team this summer), a USHL coach, and a coach/GM in the BCHL. The wide range of coaching levels allowed me to gain insight as to what is being taught at each level. What impressed me the most about this portion of the day was that the NHL coaches were asking as many questions as were being asked of them.
After the clinic, there is some social time where coaches can mingle and discuss hockey. For me, this is a time to meet with other high-level skills coaches to discuss current trends or important topics that have continually come up in games. This is a great opportunity for me to exchange ideas, show videos, and learn from others who are also working with high-level players.
As skills coaches, we often view the game differently than bench coaches as we watch a lot of individual things as well as team structure. Bench coaches have different things to worry about over the course of a game. By learning more about the game from high-level coaches, I can continue to expand what we are teaching to players through our programming with Jets Hockey Development. It is my job to be able to identify the necessary skills to play at the highest levels and be able to come up with age appropriate practice plans to teach these skills to players.
I am looking forward to bringing what I've learned at this years coaching clinic back to Jets Hockey Development and I can't wait until the next NHL Coaches Association clinic in Montreal next year.