I have been very fortunate to come to the Hockey Canada Under 17 Development Program for a third year and every year it blows me away. The talent, professionalism, and willingness to learn from these young men is really something that is remarkable. I am once again working with Team Black and Team Blue in a camp of 112 of the best 16-year-old hockey players from coast to coast in Canada. From these two teams, Hockey Canada will form Team Black, which will play in the U17 World Championships in November.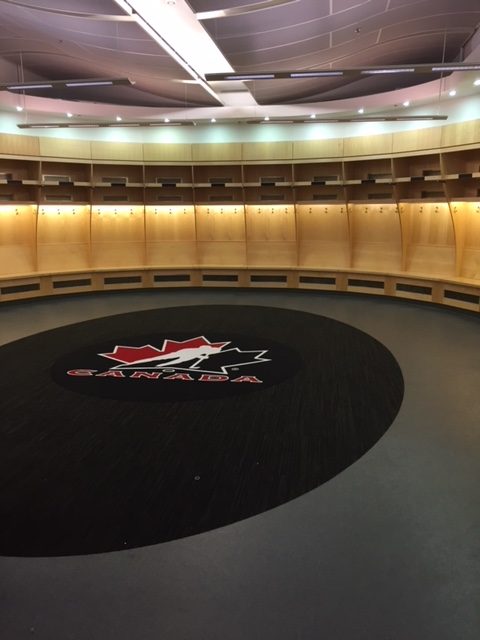 The week is a very busy week of hockey for the players, who were faced with numerous challenges, including meeting a full new coaching staff and sorting out new drills and expectations on the ice, working with new skills coaches who are giving them new information to work on in practice, and hopefully implement in games, and being in a room with 19 new players who all have the same dream of one day playing for Team Canada.
The coaches challenge the players and the players push and challenge each other to get better as they quickly realize that playing for Team Canada is not easy. It takes an exceptional athlete to be able to face the challenges head on and raise their game to a new level among the best players in their age group.
Off the ice, players are put through seminars to help them learn what it takes to be a world-class hockey player. Seminars in nutrition, mental performance, goal setting, social media, fitness testing (and more) allowed the players to see what is required on a daily basis from a hockey player at this level. These players quickly see the difference in dedication and passion for the game from simply being a guy who plays hockey to a true hockey player.
From my perspective this is a very exciting week. I get to meet new coaches, trainers, and players who all have an undisputable passion for the game. Every coach has a different style and I love the challenge of finding a way to implement what I do on the skills side to help each player improve in a short time to contribute more to the team. I get to meet players from across the country who all have different backgrounds and experiences with skills coaches. Some are used to the language, some have never heard the depth of the details in the instruction and some need a translator as they only speak French. It is up to me to find a way to connect with all the defencemen that I work with to help them see improvements during this week, and also give them things to work on as each and every player realizes that he needs to continue to improve.
It's not just the prospective Team Canada players who learn and grow over the course of this week of training. Working with new players, working through new challenges, and collaborating with other coaches is also good for my own coaching toolbox. Players' challenges become my challenges as I tailor their development plans to find the best ways to help them take their game to the next level. In working with players with unique styles of play, there is always a takeaway that I can bring back to the players that I work with through Jets Hockey Development.
It is a busy week full of practices, seminars, meetings and games which all lead to an incredible experience for the trainers, coaches, and players. This group was talented, energetic and willing to learn.  For all their skill, they have had their eyes open to how many good players there are in Canada and what it will take to play for their country. The common theme that came up from all the players I met with is, 'I have to get better." As a skills coach, that is what I love to hear, as it is an attitude that will continue to serve us well, even when we think we have reached our ultimate goals!