Many people overlook the importance of mobility in training regimes. Mobility can be defined as the ability to move a limb actively through its full range of motion in a controlled and stable manner. To clarify, there is a difference between flexibility and mobility.  Flexibility is the ability of a muscle (or group of muscles) to passively lengthen through a range of motion. Stretching works on lengthening and shortening tight muscles to help to improve flexibility, while mobility goes much deeper than muscle tightness.  Mobility addresses all elements that may limit movement and performance such as soft tissue restriction, range of motion dysfunction, and joint capsule restriction to name a few.
Joint mobility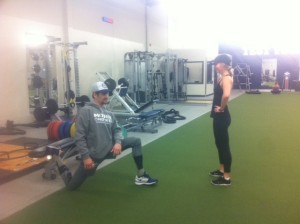 exercises are beneficial for increasing range of motion and restoring lost movement patterns, but the benefits exceed that. They can help to prevent injuries before they arise.  Don't get me wrong: raw strength, speed, and power are all extremely crucial, but equally so is the ability to move your joints through their full range of motion, especially for athletes. Joint mobility should be considered as general maintenance for your body. Just as your car needs oiling and tires need pumping, our bodies have similar needs. Strength development suffers without proper joint mobility. If you have reduced joint mobility, performing quality deadlifts, squats, presses etc. is going to become difficult. Inadequate mobility also significantly increases your risk of injury because if one joint does not move well, there's going to be compensation from somewhere else.  This can lead to a loss of power, strength, or range of motion and increase ones risk of injury.
Power output and speed can be compromised with reduced joint mobility. When shooting an arrow, the farther you pull the string back, the more tension there is, and the farther the arrow shoots. This analogy can be applied to your joints.  For example, while squatting, greater joint mobility at the hips and ankles will allow you to get lower and in turn will allow you to generate more tension and greater power.
You can use mobility exercises as a warm up, an active recovery between sets, or as a workout on its own. Joint mobility exercises can be prescribed as methods of rehabilitation, pre-habilitation, and as a means of athletic enhancement.
One mobility exercise that I would highly recommend is the "Couch Stretch". You'll see athletes, and everyday people, using this exercise to increase their mobility. The best part about this is that it can be performed at the gym, or even in the comfort of your own home (see photos).
People generally disregard the mobility portion of the workout without realizing its benefits to their overall well-being.  Properly learned and maintained joint mobility can restore complete freedom of motion to your many joints.
-Jasmine, Trainer at Focus Fitness