If you've been to a goalie training session at the Ice Lab at hockey for all centre, chances are you've heard Head Instructor of Goaltender Development Andy Kollar tell you that if you think you're working hard enough, you're not.
Many Ice Lab-trained goaltenders take that to heart, including 18-year-old Ty Brennan. It's that kind of mentality that led Brennan to the NHL draft in early July.
It was at pick number 102 that Brennan got to hear his name called by the New Jersey Devils. The obvious elation of being drafted into the NHL was quickly followed by another surreal moment for the netminder – getting to meet one of his goaltending idols, Martin Brodeur, now a member of the Devils organization.
"Being drafted was a dream come true, and a huge moment for me and my family," said Brennan as he recalled hearing his name on the second day of the draft on July 8. "My whole family was there, and my girlfriend was there to celebrate, which was really special. I think landing in New Jersey will be the best thing for me.
"Meeting Martin Brodeur was cool too. He's a goalie I looked up to as a kid. That's a moment I won't forget."
Brennan has been doing a lot more than dreaming to get to this point, of course, and that's exactly what he'll continue to do to try to follow in the steps of the likes of Brodeur.
Few people have seen the work Brennan has put in like Kollar has. He's been working with Brennan for over seven years.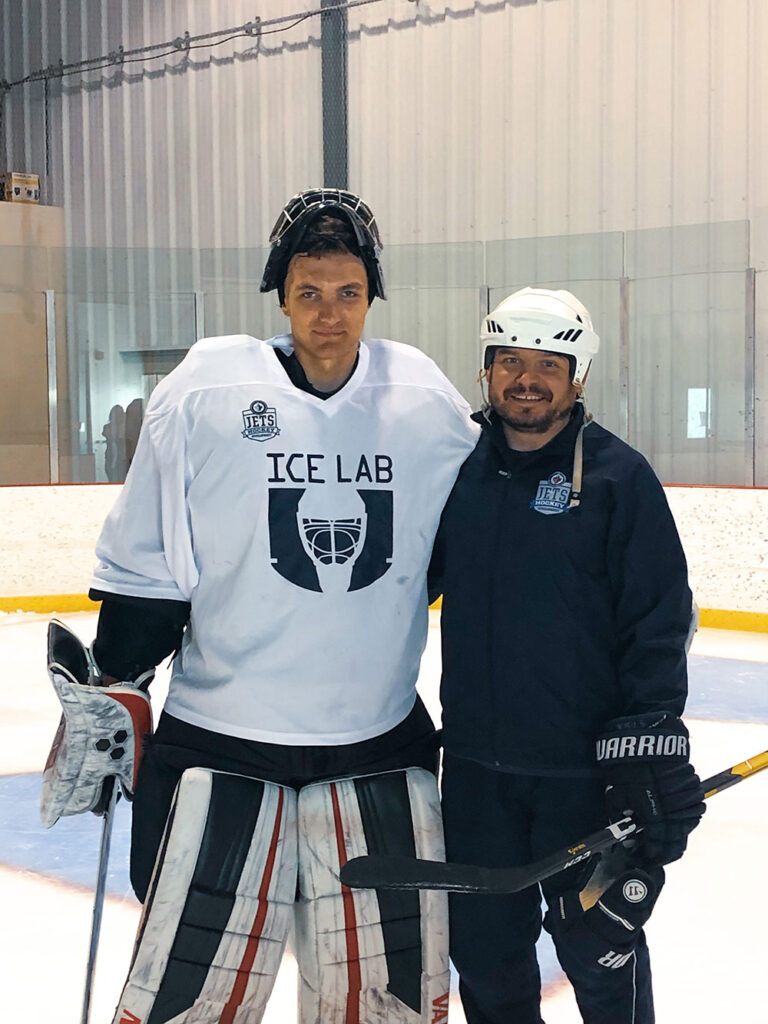 "Ty's been a big goalie from an early age, but our goal has been to have him not play like a big goalie," noted Kollar of their training strategy over the years. "We've really focused on his skating, making him a very athletic goalie, and ensuring he's constantly in control in the crease."
Though Kollar's on-ice training sessions with Brennan are more infrequent now due to Brennan's WHL home being in Prince George, BC, Brennan still carries many lessons he's learned with Kollar on the Ice Lab's 45-foot by 37-foot surface.
"Since I was a young kid, Andy has helped develop me to where I am today," said Brennan. "He really helped me set goals of where I wanted to be. That started with goals every summer to get to the WHL, and over time, he's really taught me to be a pro. There have been a lot of experiences where I thought back to what Andy has taught me."
No doubt this summer has provided numerous of those moments. Shortly after being drafted, Brennan was off to the Devils' development camp where he and other Devils prospects got to interact with members of the organization and get a taste of the pro experience.
"That was a really good week," noted Brennan. "We got to be in that professional atmosphere for a week, and all the staff were there to help us all develop through the whole week. The coaches gave me lots to work on, and the guys were all supportive."
Soon after, Brennan was on his way to the Team Canada World Junior camp. That week provided him with yet another great opportunity to learn more and meet new faces, and he left the week with even more to work on in his game.
And through all of it, he still maintains constant contact with Kollar.
"It's really important to build relationships with the athletes we work with," said Kollar. "You can have a great skillset, but if you're mind isn't in the right spot, it's tough to do the work. We're proud to be a part of the on-ice development for goalies like Ty when they're in town, but we see it as equally important to stay a part of their off-ice progress when they move away to chase their hockey dreams."
A stable mindset and a relentless work ethic will be the key for Brennan throughout the rest of the off-season and as he enters another season between the pipes with the Prince George Cougars. Just because he's been drafted by an NHL team doesn't mean he's working hard enough.
You can be sure Kollar would be there to remind him that he can always work harder.