Return to Play is a term that was added to the vocabulary of athletes, leagues, and programs across the sporting world this year. With Manitoba back under code red restrictions and all programming at hockey for all centre on pause until further notice, the team of coaches at Jets Hockey Development (JHD) has been working to ensure that it is indeed a return to play for young hockey players in Manitoba, and not a return to hockey when they can hit the ice again.
The difference? JHD wants to ensure that hockey and development are still front of mind for young athletes, even if playing isn't possible right now.
To do that, the JHD coaches have turned to Zoom to stay connected with teams from around Winnipeg and beyond by hosting virtual seminar-style presentations – not unlike the boardroom sessions that would run in person at the Iceplex under normal circumstances.
Having been faced with a similar situation of being locked down in spring of this year, the JHD coaches had some experience to draw from.
"We had done presentations during the first lockdown, more as recordings for players and coaches to find, to put some information out there, and to keep players engaged," said Dave Cameron, Head On-Ice Instructor and Program Manager with JHD. "JHD On-Ice Instructor Devin Himpe and I both do presentations for the Hockey Manitoba coach development program as well and did several of those through September and October. It started to open up the possibility of doing this a bit more, and as soon as things got shut down, we had a number of players, teams, and coaches reach out to do some Zoom calls and to keep their players engaged that way.
"Every session is an hour, where we typically present for about 50 minutes and leave some time for discussion and questions at the end," continued Cameron. "Sometimes, those 10 minutes at the end have been the most valuable part of the conversation because players get to interact and ask any questions that they have."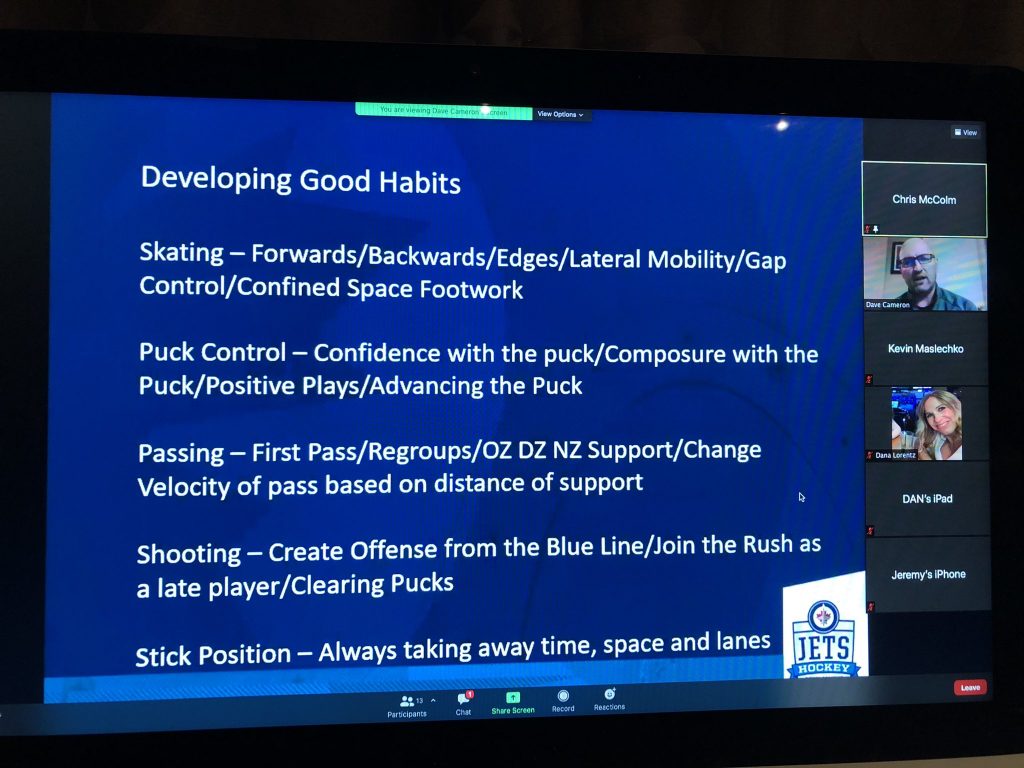 Despite not advertising these virtual team presentations formally, JHD has already run eight sessions with teams of various ages and levels from junior teams to AA U13 teams, with more to come.
Teams can request presentation topics that fit their team best, whether that be defensive positioning or developing good habits on the ice.
Chris McColm, head coach of the Eastman Selects AAA U15 team made sure to take advantage of this opportunity early with his team. The team took it so far as to do two sessions in one night – one for forwards, and one for defence.
"Us as coaches were thinking of what we could do to keep our players engaged. We can't go to the rink, we can't go to the gym, we can't get together as a team. We had a couple team meetings on Zoom, so we thought why not use this platform to have some presentations?"
Judging from the reaction of the players, the sessions are more than just making the best of a situation that finds them sidelined.
"The kids really loved it," continued McColm. "A couple of the players told me after that they could've stayed on all night to talk with Dave."
For Cameron, the call with the Eastman team has been an early highlight from the initiative as some of the players did in fact choose to stay nearly all night to talk hockey.
"The thing that was really exciting for me was that many of the forwards joined the defencemen call, and many of the defencemen joined the forwards call," said Cameron. "Their coach had told me that their group was really eager to learn and get involved. To me, that showed just how excited these kids were to be talking hockey that they were willing to spend an extra hour on with us virtually just to learn about somebody else's position."
Knowing his team well, McColm wasn't surprised to see his players' commitment. He was just happy to have another well-respected voice stressing the fundamentals of the game.
"There are a lot of kids on our team that are showing the commitment to make it to the next level, McColm said. "They're showing that they want to learn – they're sponges, and they just want to soak in the information and be taught about hockey. The kids were able to hear Dave, who has a lot of credentials in coaching, as another voice who is stressing the importance of all the small things."
That kind of engagement from players has the JHD team excited about the possibilities for the virtual team sessions and Cameron sees them extending beyond the Iceplex closure, code red, and the pandemic.
"This is a way that we will for sure expand our programming because of the interest level and the ease of having us all together without people needing to be in one room. Teams can eliminate travel time and make it a bit more cost-effective without gas, meals and those things. We can just be in our living rooms and talk hockey."
To learn more about Jets Hockey Development, visit https://www.hockeyforallcentre.com/jets-hockey-development/.
If you're interested in booking a team Zoom call session with JHD for your hockey team, please email Dave Cameron at dcameron@tnse.com.