High level performers in the world of female hockey are no strangers to the Jets Hockey Development programs at hockey for all centre.
While JHD has the expertise to coach players of all ages and skill levels of hockey development, from learn to skate to adult, recreational, and the most elite levels of professional hockey, the JHD programs tailored to young female athletes continue to grow.
Following season's end, and hopefully a few weeks off to rest and recover, players are ready to get back into the gym, and onto the ice with JHD's Female College Summer Program in July and August. The program is specifically structured to have the players on the ice three times per week, in preparation for NCAA and other university sports leagues' training camps.
Throughout the summer, the JHD team focuses on developing players' individual skills to continually improve each time they step on the ice.
Kati Tabin is one such player who has trained with JHD's professional coaches for many years and who continues to return to JHD to enhance her game.
JHD Head On Ice Instructor & Program Manager Dave Cameron has been working with Tabin since she was in Grade 8. Tabin then began complementing her on-ice work with off-ice high performance training at Focus Fitness while in high school as a defender with the Balmoral Hall Blazers.
She has always been an outstanding player, but it's been her off-ice dedication that has made her an NCAA Division 1 leader and a member of Canada's National Women's Program.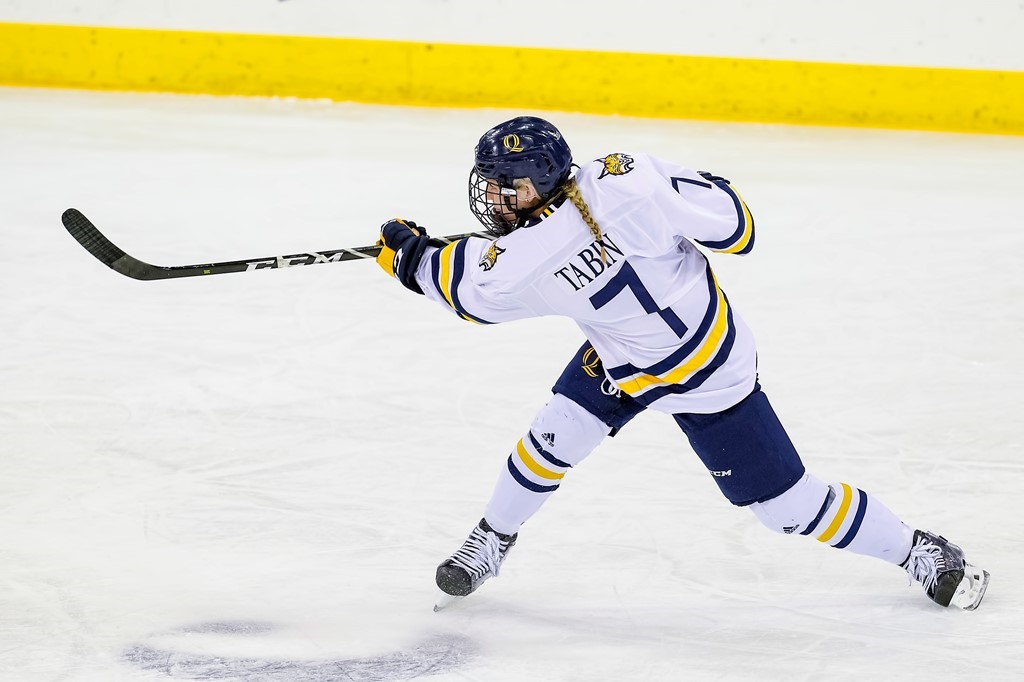 Kati's mom and dad, Heather and Darcy, got her on the ice early and she learned to skate at age four in Oak Bluff. She moved to Transcona in Grade 7 and played Stars A1 and Saints Double A and then enrolled at Balmoral Hall and played one year on the high school team before making Coach Gerry Wilson's Blazers prep team in Grade 10.
Both her dad and her brother, Zac, were hockey players and she picked up the game quite naturally. She was a member of the JWHL All-Star Team and played in the JWHL All-Star game in 2014 in Washington, D.C. She was also part of Hockey Manitoba's Program of Excellence and has long been a part of the Focus Fitness group at the BellMTS Iceplex.
Her work ethic and commitment to learning gave her the edge needed to sign and play with the Bobcats female hockey team at Quinnipiac University (ECAC) in Hamden, Connecticut, where she has just begun her fourth year.
"The most important part of my off-season training is just in general getting better," said Tabin. "Getting faster, getting stronger, and getting more explosive are all so important."
She emphasised that her nutrition also plays a big role.
"AJ Zeglen (Manager, High Performance Training at Focus Fitness) knows just about everything you need to know about fitness and nutrition, and I am so lucky I had him as a trainer over the past couple of years," she said.
When Tabin returns to Winnipeg she continues to train in the gym at Focus Fitness and gets on the ice to skate with Cameron and the rest of the JHD team.
"When I come home I want to maintain what I've gained out at Quinnipiac and there is no better place to do that than at JHD. The skates are always so beneficial, I find that I learn something new every single skate that helps me become more efficient and effective on the ice."
Last season was Tabin's sophomore year, and her best with the Bobcats. She finished the year with 14 points in 36 games and had the second-best record on defence with 47 blocked shots.
Others are taking notice of Tabin's game, as she has received invitations to play in elite events such as the Team Canada Fall Festival, hosted in Dawson Creek, BC in September, and Canada's National Development Team Camp in Calgary in August, where she was also appointed to the Select Team.
Although in her final year at Quinnipiac, Tabin hopes to keep playing as long as she can and will continue to further her training with the goal of staying in North America to play in the Canadian Women's Hockey League or travelling overseas to play professionally.
While her own drive and determination have been key, Tabin also credits JHD for the opportunities that continue to present themselves.
"In my opinion, JHD is one of the best programs in Winnipeg," Tabin said. "The staff at Focus Fitness are well-educated and very welcoming. As for the on-ice part, the staff that help Dave are awesome. And Dave is truly the best. He has taught me so many valuable hockey skills. I truly wouldn't be the hockey player I am today without his help."
Female players can elevate their game through a variety of skill and age appropriate programs throughout the spring and summer months with Dave Cameron and Lee Stubbs, the JHD Head On-Ice Skills Instructors.
For more information or to register, visit bellmtsiceplex.ca.
JHD Female players to watch this season:
NCAA

Logan Angers, Quinnipiac

Tess Bracken, Dartmouth

Kerigan Dowhy, Bemidji State

Mariah Gardner, Minnesota State

Kate MacKenzie, Quinnipiac

Meike Meilleur, Penn State

Erica Sandilands, Manhattanville

Kati Tabin, Quinnipiac

KK Thiessen, Mercyhurst

U SPORTS

Brooke Anderson, York

Chelsea Court, Calgary

Shyan Elias, Saskatchewan

Kelsey McHolm, York

Holly Reuther, Calgary

Allison Sexton, Manitoba
Photos courtesy Hockey Canada and Rob Rasmussen/Quinnipiac University
Originally published in Game On Magazine