When faced with a unique challenge, an equally unique solution often needs to be found. The Manitoba Moose found themselves in that position for the 2021 season.
The challenge? Creating enough space for visiting NHL teams at Bell MTS Place to follow the NHL's COVID protocols, while also needing a safe space of their own where the Moose could create their own bubble in which to compete against AHL opponents.
The solution? A move to hockey for all centre for all games and practices of their never-before-seen 17-game homestand.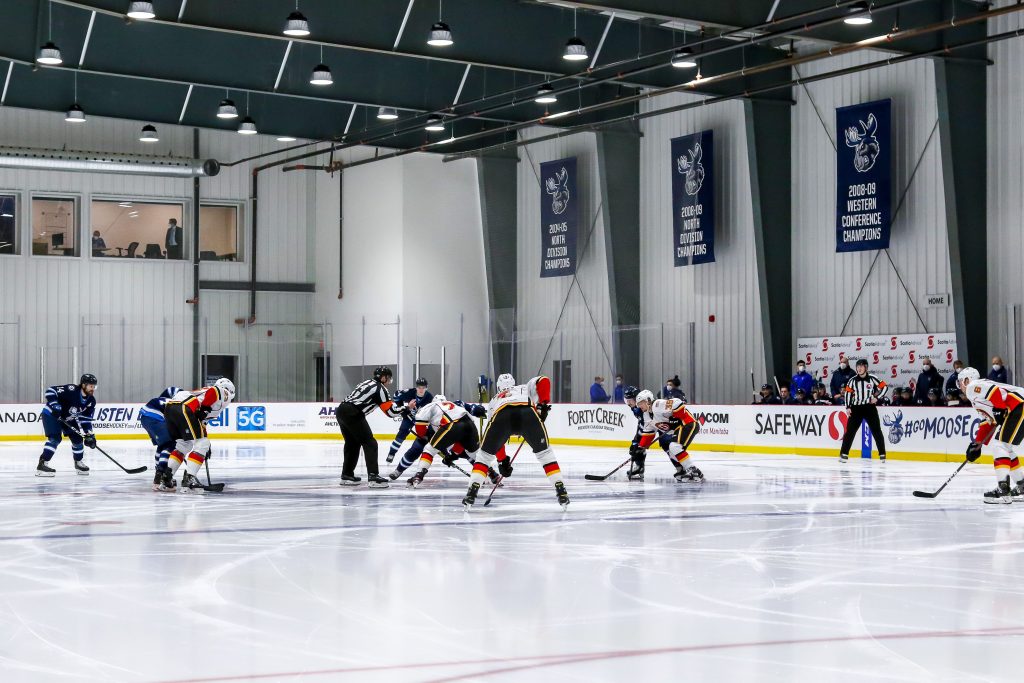 That homestand that began on March 8 wrapped up on April 29, and though the move created some adjustments for the Moose, it's something the team has been used to as they've navigated a very unusual season.
"It's been a different season in so many ways," said Moose Head Coach Pascal Vincent. "First of all, not knowing if we were going to play. Then thinking if we were going to have a season in the AHL and then knowing the schedule. The investment that management and ownership has made in order for us to play. Then the fact we had to move from downtown to here at Iceplex and play our games here. It was a lot of moving pieces to make that happen."
Both the facility and the staff at the Iceplex had to adjust too, as one of their four rinks was closed off for the Moose full-time. That rink required several upgrades on a tight timeline prior to the first game, but Iceplex General Manager David Sattler notes it was a task the team rose to.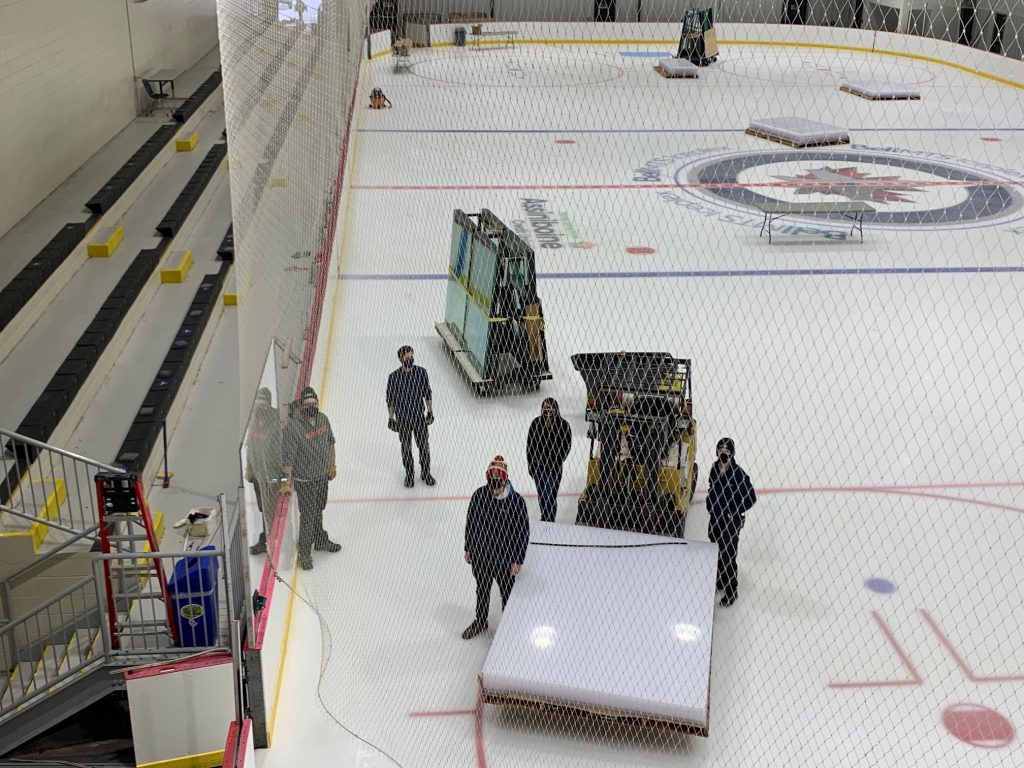 "The operations team here is such a great group of individuals. They're willing to go above and beyond. You tell them what you're thinking or what needs to be done and they take it, run with it, and they do it not only in a timely fashion but very effectively as well."
With the Iceplex typically being a facility that accommodates amateur levels of hockey and practices for the Jets and Moose, creating an ice surface that met the standards of a professional game meant plenty more work.
"While there were obvious adjustments that needed to be made, there were also many smaller daily tasks added to the ice operations crew's plate that often go unnoticed but are extremely crucial for the ice to be optimal for professional game play," said Brad Andrews, Senior Director of Hockey & Business Operations for the Moose. "Everything from checking ice temperatures, to edging and checking the boards, to resurfacing the ice sheet multiple times in the lead-up to the game. All of those things were done to the same standard we take for granted at Bell MTS Place."
Those extra steps in the ice maintenance process gave Iceplex staff plenty of learning opportunities.
"When the season started here, we only had one Zamboni driver who had actually worked a professional hockey game," said Sattler. "He helped train three other drivers who drove their first professional hockey games this season. The ice reports have been fantastic, so his knowledge that he passed on and what they were able to learn from him about the refrigeration system here, because every place is different, was phenomenal."
It wasn't just the ice crew that had to adjust. Administrative staff at the facility found new roles too.
"We're very grateful for the work of David Sattler and Iceplex Event & Marketing Coordinator Jonathan Bailey," continued Andrews in gratitude. "They took on the roles of Facility Compliance Officers and made sure the Iceplex was a safe place to play for the Moose and our visiting teams. At least one of them was present at every game and practice to ensure that all of the protocols were being adhered to, and we are very thankful for their dedication and attention to detail this season."
The efforts put in by Iceplex employees didn't go unnoticed by other Moose team staff either.
"I think the experience was, all things considered, really good," said Graham Watt, Head Equipment Manager for the Moose. "I think the Iceplex staff went above and beyond in terms of the condition of the ice and the arena itself, and made it as good as we could have, considering the circumstances."
More than just the ice surface, Coach Pascal noted how good of a fit the whole facility was for the team.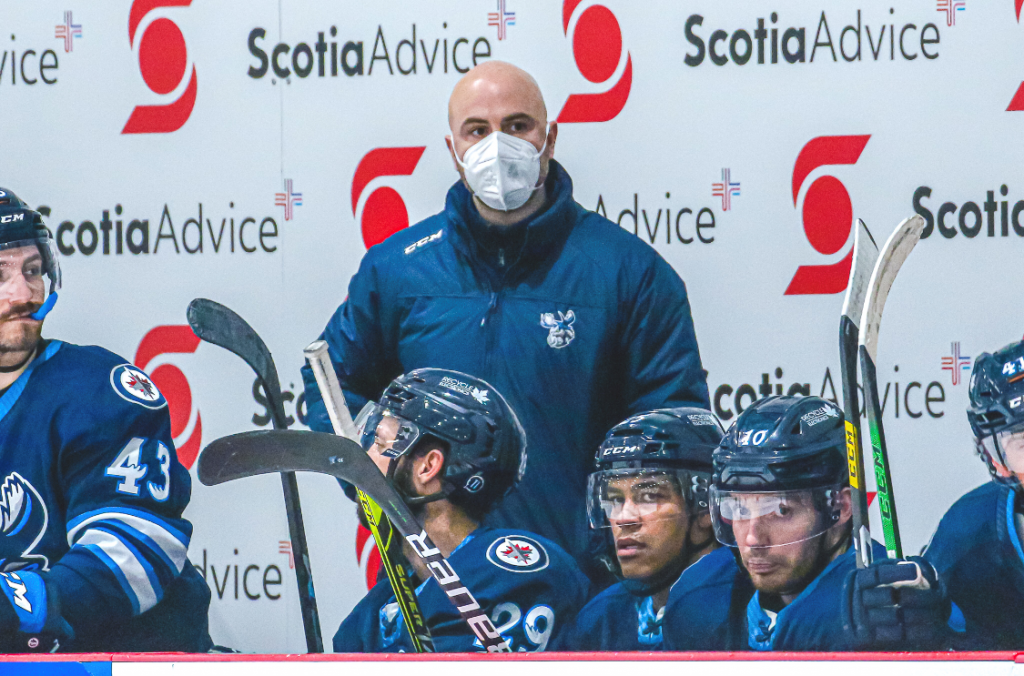 "We have a beautiful facility here for the players and coaches. They have access to a big gym and everything you would need to run a professional hockey team right here at Iceplex. We had to adjust for the opponents, the referees and the ice crew – all the little things. Even for the people filming the games and for Hockey Communications & Broadcast Manager Daniel Fink to do the play-by-play. It's been an adjustment for everyone. Everyone had to adapt, and everybody did it right. Our players were grateful for everything that's been done, and I haven't heard one single complaint."
Admittedly, playing games in their practice facility took some getting used to, especially with the absence of that fan energy, but with everything else they needed or wanted available, it allowed them to keep their focus on the game.
"What's unusual is the breaks – the eight- or nine-day breaks in between games," noted defenceman Jonathan Kovacevic of the season's unusual schedule. "But as far as the homestand, if anything it's better. You're just comfortable, you've been at home for so long. It was a little weird playing in the Iceplex at first, but it's something we're embracing as a group."
Being so familiar with the space, the team made it their home and really showed their comfort level by the end of their homestand as they took home points in each of their last eight games there while winning seven of those contests.
"Guys just love to be here," said forward Joona Luoto. "We didn't have to travel anywhere; we could just focus on playing and working out. That's a huge thing for us if we can just play our game and work hard."