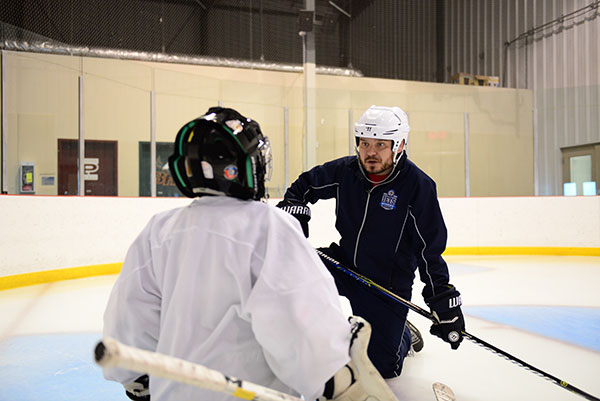 How big challenges led to bigger opportunities for Ice Lab lead instructor, Andy Kollar
Just over four years ago, Andy Kollar received a phone call from Dwayne Green, executive director of the True North Youth Foundation, that changed his life forever. "Greener let me know about a new job opening at hockey for all centre to manage its Ice Lab (goalie development) program," recalls Kollar. At the time, Kollar had been working in sales for the past several years. "It took me less than an hour to make the decision to apply. Now looking back, it is one of the best decisions I have ever made. I love what I do. I feel like a kid in the candy store (for goalies) every day I come to work."
Ice Lab is a unique hockey training program offered just for goalies at hockey for all centre, utilizing a specially designed 40' x 60' rink, along with the other four NHL-sized rinks at the multipurpose facility. "I knew Andy would be a great fit," says Green. "Not only does he have the experience, but I thought he'd also be a great fit for True North." With 15 years of goaltending experience, including playing on the University of North Dakota's men's hockey team for five years, stints with various professional clubs in the East Coast and Southern hockey leagues, and success in junior and minor hockey ― just like his goalie pads at times, his experience is stacked.
Working with goalies of all ages is one of the most rewarding aspects of Kollar's job, especially when he sees the confidence of the athletes increase in correlation with their skills. "We treat every goalie as an individual, focusing on enhancing their strengths and giving them the tools to build upon their weaknesses," says Kollar.
Identifying "weaknesses" and turning them into strengths is something Kollar knows all about. For most of his prolific playing career (see "Padding His Resume"), the never-give-up netminder overcame challenges and embraced opportunities to the fullest when they came. "Being cut [at many levels of hockey] and told I didn't have the typical body for being a high-level goalie was something that fuelled me to work harder than anyone else, and really focus on the fundamentals of what goalies really needed to be efficient," says Kollar. That commitment led to individual awards and championships at almost every level of hockey he played. Kollar knows first-hand that no matter what size or skill level, if a goalie really wants to work at it, they can get better and strive toward some big goals – or rather, big saves.
As the head instructor of Ice Lab, Kollar works with a small, but dedicated team of instructors that has built a solid reputation for Ice Lab and hockey for all centre. "We're getting some great feedback from teams that benefit from the Ice Lab. The time goalies spend on the ice here with Andy's team is translating into athletes performing better on the ice at their games," says Monte Miller, hockey for all centre general manager. "Andy's passion for helping goalies play better in net, all while having fun, has been a real asset to our overall programming here at Iceplex."
Getting all access to Andy and his team is now a year-round opportunity. With regular season hockey wrapping up, many goalies will turn their attention to off-season conditioning and development in preparation for next season. "The spring and summer are important times of the year for goalies to look back at what worked well and what could be improved upon from last season," says Kollar. Ice Lab has sessions available throughout the spring and summer months for athletes wanting to enhance their skills without the pressure of a regular season. "The goalies we work with closely in the off-season enjoy the Ice Lab sessions because their hockey schedules are generally lighter, giving them more opportunity to focus on working on improvements to their game."
Ice Lab develops goalies from all levels of play. From professional to peewee, and newbie to novice, Kollar and crew have it covered from the basics to specialized training programs. To learn more, visit bellmtsiceplex.ca or contact the Ice Lab at 204-926-5869 akollar@tnse.com
Padding his resume (Andy Kollar fun facts)
Played high school hockey for River East Kodiaks from1993 to 1994 (Won city and provincial high school championships; Won goalie of the year honours in 1993)
Played in MJHL for St. James Canadians from 1994 to 1995 (In rookie year, won championship; led league in GAA as a rookie)
Played for the Fargo Ice Sharks in the USHL from 1996 to 1997 (made the USHL All-Star team)
Played NCAA hockey for five years with UND Fighting Sioux from 1998 to 2002 (Won 2000 NCAA Championship; NCAA 2001 Championship Finalist; )
Modelled personal goaltending style off of Stanley Cup champion and Edmonton Oiler, Andy Moog
Says best play he ever made was marrying his wife Angie in 2003. The happy couple have a son, Ashton, 10 and daughter, Dylan, who is 8.
Originally published in Game On Magazine