Continuous development is the key to success in hockey, or any other sport. Whether you are just learning the game, or are at the highest level of the game, you need to continue to get better all the time.
The Jets Hockey Development (JHD) team at hockey for all centre knows this as much as anybody and it shapes their programming. There isn't a level of hockey that their programming doesn't touch, as they have programming for everyone under the age of seven to NHL calibre players. It's all part of their philosophy to provide professional instruction at all levels of the game, and to help players continue to improve throughout their hockey journey.
Much of JHD's coaching and instruction comes through their own programs such as hockey camps, tournaments, individual on and off ice sessions, and more. Their efforts to share their breadth of knowledge and experiences goes beyond those programs though. Through several partnerships with leagues, divisions, and teams in Winnipeg, the JHD team has not only increased their own programming at the Iceplex but has also brought their elite coaching off-site.
One program that formulated for JHD in the fall of 2019 was a partnership with the St. James Assiniboia Minor Hockey Association (SJAHA) Initiation House League. The partnership had the JHD coaches leading the sessions at SJAHA venues as opposed to at the Iceplex, and it offered them a great way to instill the basics of hockey to players starting at the beginning of their hockey careers.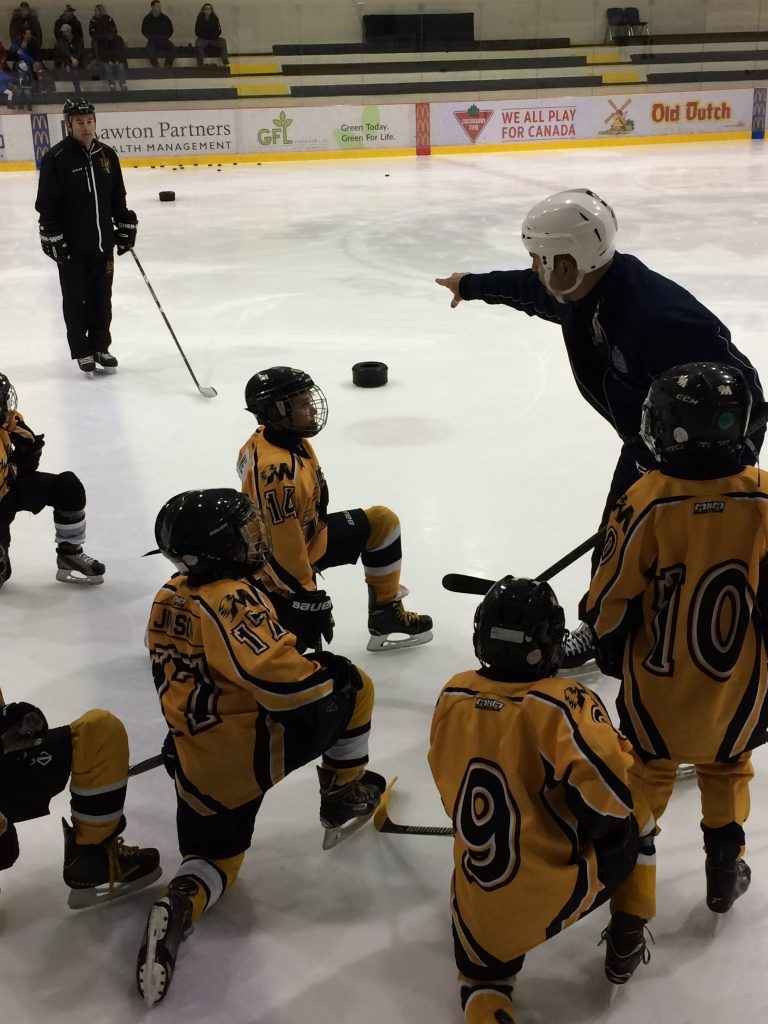 The House league starts its season with an eight-week development program before regular season games. It was during this development program that JHD stepped in and brought their expertise, which was a new way of doing things for the SJAHA. In past years, the league had done their development program in-house, but in wanting to give greater support to their coaches and raise the level of development, having JHD run the development sessions was an opportunity they couldn't pass up on.
"We wanted to bring someone in to allow our coaches, who are volunteers and are maybe new to coaching hockey, to see what things should look like when they have their own teams," said Shawn Edinger, VP of the House League for the SJAHA. "We wanted someone to come in who we knew would help top to bottom with player development and fine tuning the skills that the players need."
The partnership gave JHD further options to reach out to the community and stress the importance of fostering proper technique and skills at a young age, with the potential of giving these players an advantage down the road.
"The goal of the program is to start at a young age with these players and really expose them to some different skating techniques that they can continue to work on, as well as show coaches how they can utilize some of these skill development areas to make sure players get the most out of their team practices," said Dave Cameron, Head On-ice Instructor with JHD. "It was also a chance for those volunteer coaches to be mentored on the progressions we use from the start of the program to the end of the program, as well as learn how to better communicate some of those skill development areas to their players."
Both goals were achieved in Edinger's mind. The benefits with the coaches has been obvious, and a few years down the road, he knows there will be a noticeable difference in the level of development with the players.
"We're not worried so much about positions or systems, we're worried about skills," Edinger reiterated. "Everyone is seeing that these high-level coaches still focus on the skills. You think of an NHL player, and you think of them focusing on what the power play looks like, or what does their trap system look like. But the JHD coaches came in and showed us that cutting around a cone a certain way is important, and that the little things are the most important in planning."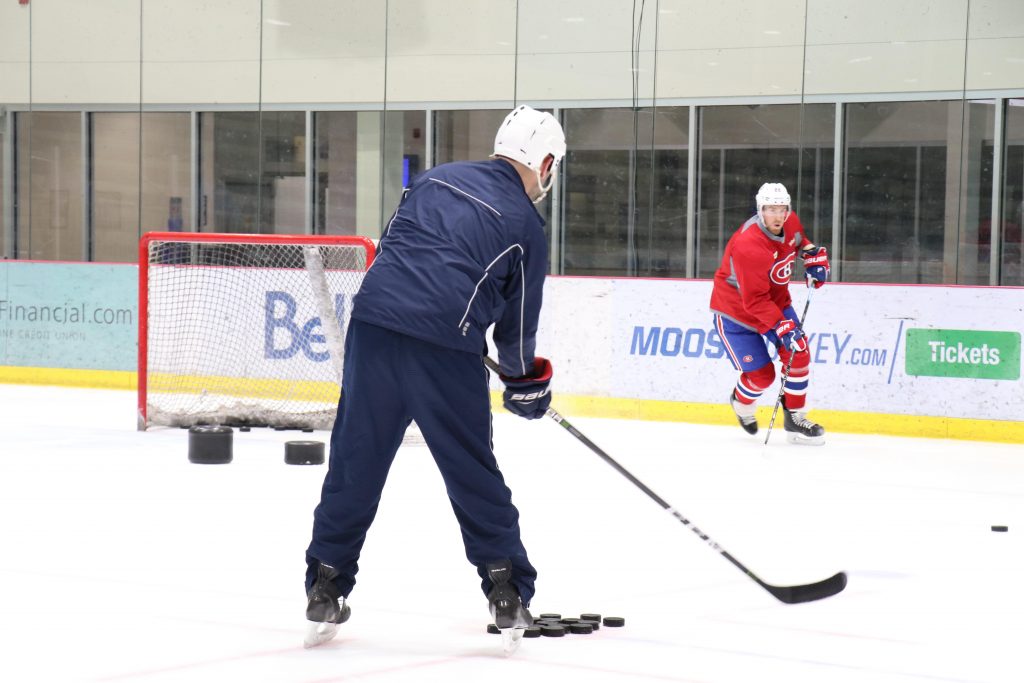 One partnership that has been running for much longer is with Winnipeg AAA teams at U-15 and U-18 levels. Every Monday night during the hockey season, the JHD team works with 11 AAA teams in skill-focused sessions.
"We have three rinks going on Monday night and it's a full evening for our coaches, but we can communicate as a staff on what we want to work on with every age group," said Cameron.
The program has grown from operating biweekly to now running weekly to maximize the return to AAA players.
"It was difficult to build on practice plans or work on progressions because sometimes players hadn't worked on those skills in those two weeks they hadn't seen us," said Cameron. "The change was made to see the teams every week, which allows us to work on a lot of different things and really progress the sessions. It's led to a lot of really good development opportunities for the players."
Scott Coates, who coaches the Winnipeg Monarchs AAA bantam team, was coaching the team when JHD made the transition to weekly sessions. He said the change made a big difference for his team.
"It allows JHD to focus on the skill development piece and that gives us more time to do the tactical and systems work in our regular practices," said Coates, as he continued to emphasize the importance of JHD focusing on skill development. "Our players are of course still developing and being able to do a skill development practice every week just gives them that edge. A lot of times, even at our level, kids might not have been shown the proper way to do things. When a guy like Dave comes out and coaches our players, you can definitely see that improvement toward the end of the year. So, when our players move up an age level, they're that much more ready for it."
Jets Hockey Development now also standardizes all of its practices at the AAA level, something they didn't used to do, ensuring that all teams of the same age group get the same great experience when they come to the Iceplex. It has been a great way of leveling the playing field and has ensured that the JHD coaches can use the extent of their knowledge and experience to develop a plan where every player is developing the skills they will need to succeed.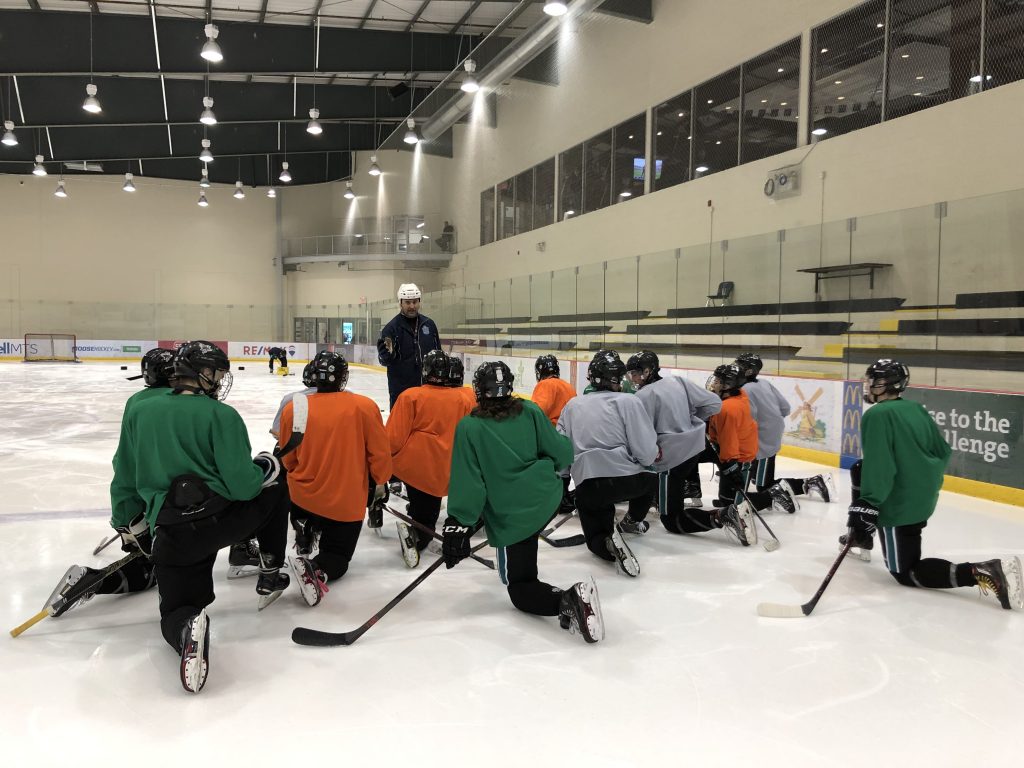 "Players were getting really different experiences based on what their coaches were asking for," said Cameron. "Some teams would ask for shooting drills, other teams would ask for power skating. The teams that got power skating lessons obviously got better at power skating, and the other kids wouldn't. It wasn't a fair system for a program where every team is putting in the same amount of time as the others. Now we structure what happens every time the AAA players walk through our doors. We come up with the practice plans for development purposes and let the players work through those plans. Now every player that comes through is getting all of those fundamental skills that will help them excel."
Jets Hockey Development is always looking for new opportunities to develop players of all ages. If your team or organization is interested in receiving coaching from the experienced team of JHD coaches, please contact Dave at dcameron@tnse.com.
If you'd like to explore the programs that JHD already offers, please visit https://www.hockeyforallcentre.com/jets-hockey-development/. Though many programs for the spring and summer have been postponed or cancelled due to COVID-19, the JHD team is prepared to return to action when the Province of Manitoba and local health authorities permit.