For Jets Hockey Development's newest coach Venla Hovi, the growth process has always been a big part of her hockey career.
Growing up in Tampere, Finland, outdoor ice was her main field of play and boys were her main competition. Hovi has seen nothing but growth since then, as she climbed her way to the top of women's hockey by gathering several medals for Team Finland in numerous Olympic Games and World Championships, along with a USports national championship while playing for the University of Manitoba Bisons and a Canadian Women's Hockey League title with Calgary Inferno. But it's been the process that has been most rewarding for Hovi.
"My highlight from my career is just the overall progress and the journey of growing as a person and getting to know myself more as an athlete," said Hovi while reflecting on her hockey career.
Despite retiring from playing competitive hockey, that growth is not about to stop for Hovi. Taking on a coaching role with the Jets Hockey Development (JHD) team at the hockey for all centre is just the next stage of growth for her, even if she didn't foresee it being her next career path.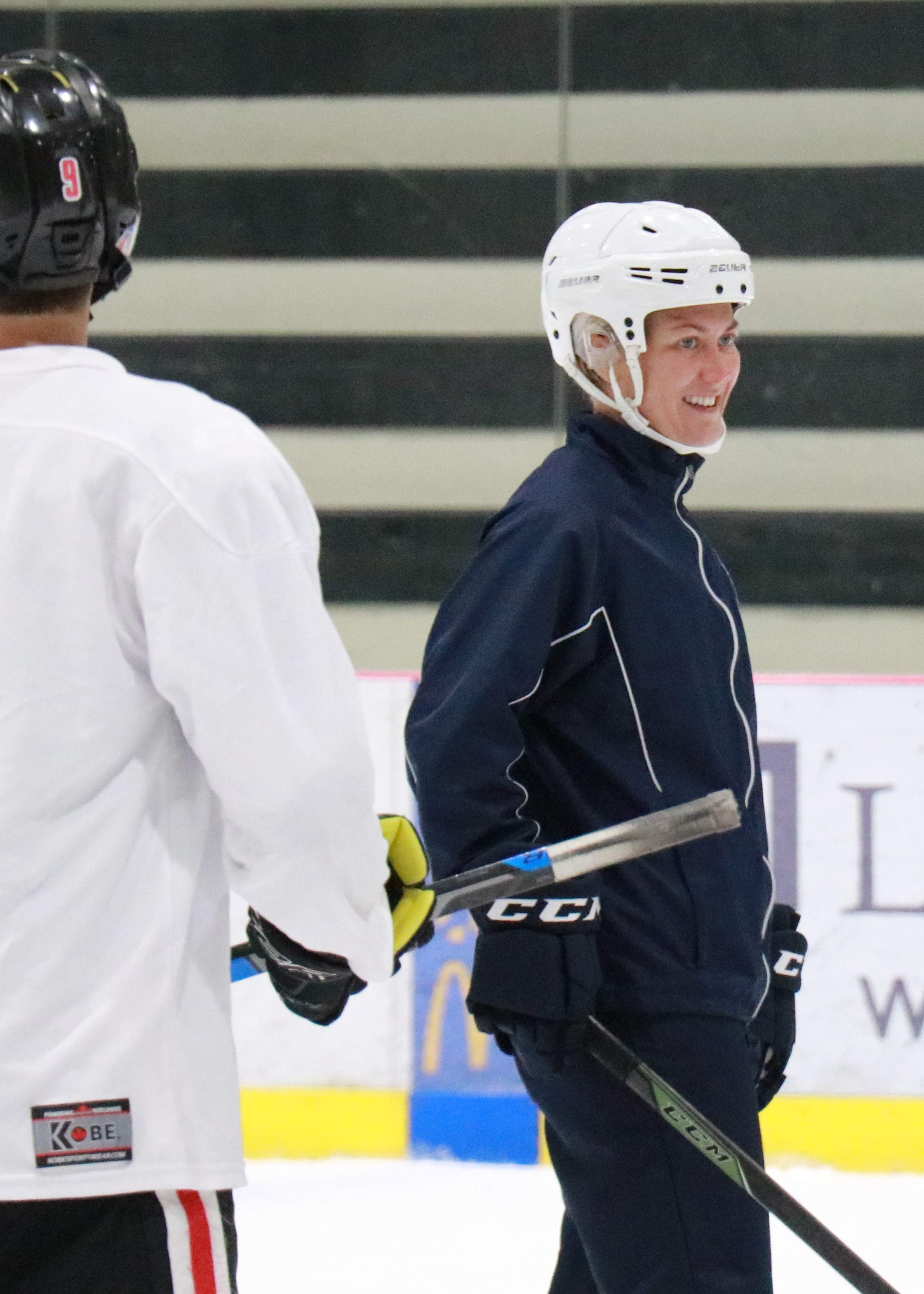 "I coached at some camps and helped out at volunteer events in Finland when I played there," said Hovi. "When I moved to Winnipeg to attend the University of Manitoba, I got the chance to start coaching on the side. It was just easy to work around my hockey and school schedule so I started to get into it more. Even then I never really thought that this was going to be my possible career path. I just did it because I wanted to learn more and I enjoyed it.
"When I graduated and played in Calgary and started to look for jobs after retirement, I looked for jobs in different fields. Coaching was just one option, and I got the most opportunities there so I wanted to grab on to the chance."
That chance resulted in Hovi joining JHD. Just a few weeks into her position, she's looking forward to not only developing young hockey players but doing some development of her own.
"The learning process is important, and I want to get more comfortable on the ice," Hovi noted.
It may sound odd for a hockey player with the experience that Hovi has to talk about "getting comfortable on the ice", but she explained that playing hockey and coaching hockey are very different concepts.
"Coaching is really challenging and I love that. It's something new, something fresh. It's definitely a different perspective, and you really need to get to know your players. It's not about yourself, it's about other people. I think there is still a lot for me to figure out because I'm at the start of my career, but I love the challenge and seeing the kids have fun on the ice."
Though the switch to coaching will bring changes and challenges in her life, there are aspects to being on the JHD team that have made Hovi feel right at home.
"My life, in a way, is still the same. I'm still always at the rink, I still have my stall in the dressing room even though it's just for coaches. It's like a little team we have there."
Hovi will no doubt grow quickly in her role, and the JHD team certainly has plenty of experience for her to learn from. But the JHD team will also be learning from Hovi, and will be growing with her on board as she joins JHD as its first full-time female coach. Hovi knows that having both male and female coaches will make JHD programs even better, and not just because it may attract more girls to hockey.
"I really love it when there are more female coaches," Hovi said. "Obviously we want to encourage girls to play, but I think the strength of our program is having the opportunity to have guys coaching girls, and myself coaching guys and the mix that we have. I think boys and girls can both learn a lot from each other."