Last summer, Jets Hockey Development (JHD) released The Starting Lineup video and content series that featured their team of experienced instructors to allow members of the Winnipeg hockey community to get to know them a little better. As with any team, lineups change over time and JHD is no different. After welcoming then-Manitoba Moose Ticket Sales rep Brett Wur to the team on a temporary basis in summer and fall due to redeployment within True North's organization amid the pandemic, Brett's hockey experience made him a great fit to join the team full-time. Find out a little bit more about Brett and what he brings to the ice.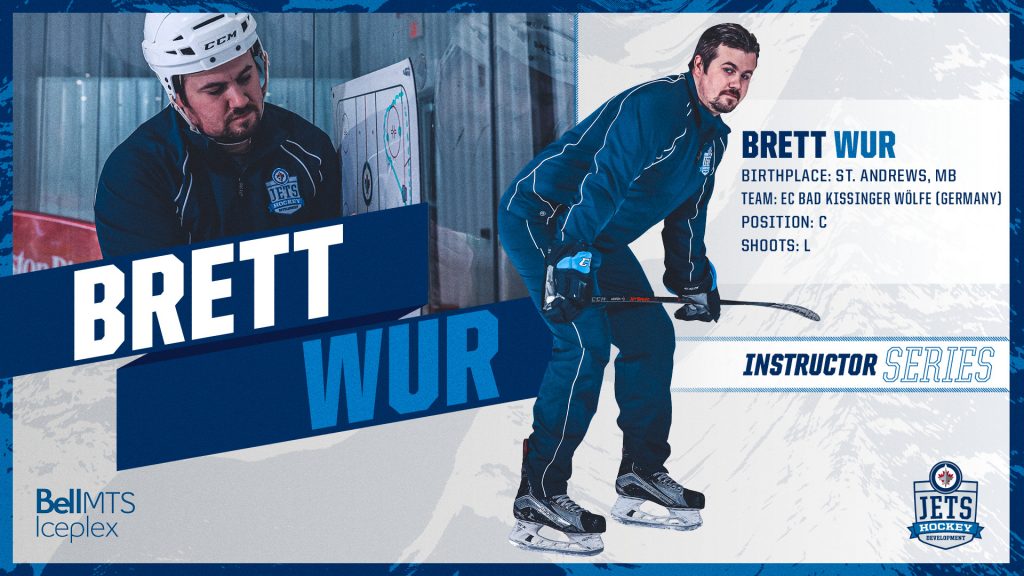 Brett Wur – On-Ice Instructor
Hockey has always been Brett Wur's main focus when it comes to sports. The sport has taken him many places as he played three years of junior hockey – two in Manitoba and one in Ontario – before playing university hockey for several years, the majority of that at Trinity Western University in Langley, B.C. after he spent a brief period playing in the U.S. Following his university career, he played one year of professional hockey in Germany.
That focus on hockey hasn't stopped Wur from finding balance in his athletic life. Growing up, he enjoyed playing a variety of sports.
"I played Team Manitoba volleyball for a season," said Wur. "Being able to play multiple sports growing up really helped shape skills that I incorporate into my hockey game."
It's not just volleyball that Wur enjoys off the ice, and his experience in a variety of sports translates well to his new coaching role with JHD.
"You take a look at playing soccer and being able to have foot control can really translate into edge work and picking up bad passes with skates. Baseball is a great example of hand-eye coordination. You see in today's games that defencemen are knocking down passes, you see guys tipping in goals or batting pucks out of the air into the net."
Wur finds balance in other areas of life too, countering his passion for being at the rink with an appreciation for outdoor activity.
"Living in B.C. for four years, I really got to experience the outdoors. It was where I really fell in love with doing a lot of outdoor things – going kayaking, going canoeing, and stuff like that. It just gives you that break from the hustle and bustle that you have every day."
For Wur, finding that balance is key in his on-ice instruction too as he aims to develop hockey players who can find success at every level, as well as off the ice.
"Being able to work defensively, but also be offensive – I really pride myself on being a two-way player. So trying to be able to incorporate that into a lot of kids at a younger age can really help them develop in all aspects of the game, in all three zones, and also in being a great team player."
For more information on the entire JHD Starting Lineup of coaches, visit BellMTSIceplex.ca/JHDTeam.
Take advantage of the experience Wur and his fellow JHD coaches bring to the ice by signing up for their spring and summer programs at BellMTSIceplex.ca/JHDPrograms.