On January 20, Jets Hockey Development coach Venla Hovi was honoured by the University of Manitoba Bisons hockey program by being inducted into their Hockey Hall of Fame at a reception held at the Assiniboine Park Zoo's Journey to Churchill exhbit. With a tribute like that, it's clear Hovi left a lasting impression on the hockey program at the university with her on-ice talents.
Hovi's career stats over three seasons with the Bisons speak for themselves. Through 51 regular season games played, she amassed 21 goals and 49 points. That was all merely a prelude to the highlight of her time in brown and gold, as she capped off her final season with the team by winning a USports National Championship in 2017-18.
There were many more highlights during Hovi's three seasons at U of M. It was during her time there that she played in the Olympics as part of the Finnish women's hockey team. But as a Bison, two other games remain etched in Hovi's mind.
"We played two games in my time at U of M that were extremely long," recalled Hovi. "One went to five overtimes, and the other one went to four overtimes. The second one I played six hours after landing in Winnipeg from my travels home from the PyeongChang Olympics and we moved on to the Canada West Finals."
Talk about a whirlwind.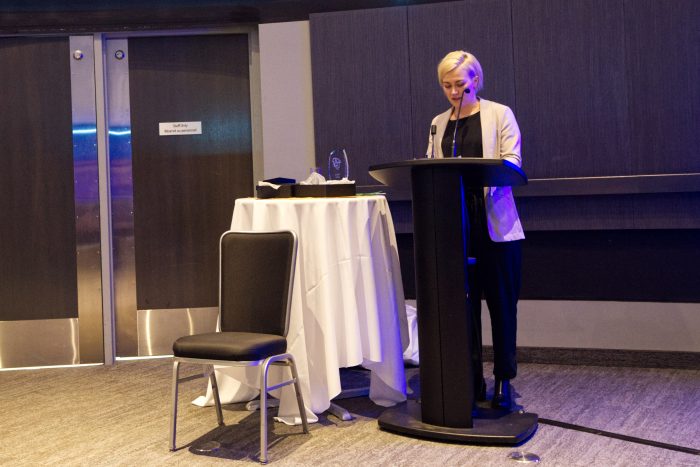 Though her whole university hockey career may feel like one big whirlwind now, it's clear that Hovi's Bison teammates have left as much of a lasting impression on her as she did on the hockey program.
"The girls were extremely good people and supported me so much along the way, especially during my training all the way to the Olympics," said Hovi. "I really gained a lot of friendships, and the Bison teams during the three years I played there have a really special place in my heart.
"They were special groups in terms of team dynamics," continued Hovi. "We were such a tight-knit group, and players genuinely played for each other. It was a big jump for me to come play here all the way from Finland, but I experienced how welcoming the community was. I'm forever thankful for all the help and support of my teammates, staff, and the players' families."
It seems only fitting that Hovi has made Manitoba her new home and is now giving back to the game of hockey. She's stayed involved at the U of M by helping to coach the women's hockey team there, while her day job sees her coach at the hockey for all centre with Jets Hockey Development. That's another hockey community that Hovi has felt welcomed in, and it shows in the way the other coaches speak about her.
"This is an exciting time for the coaches at JHD with Venla being recognized by the University of Manitoba as a player who left her mark on the program," said Dave Cameron, Head On-Ice Instructor with JHD. "This is one more thing to add to her already incredibly impressive list of accomplishments. She was an incredible player who had success at every level she played at and that has transferred into her coaching, where she is able to help players develop their skating and skills to help see success on the ice."
For Hovi, whether coaching at the Iceplex or at the U of M, it's all a way to stay connected with the Winnipeg hockey community that has impacted her life so greatly.
"My teammates were such good people and students and continue to be leaders in their lives after hockey. Some of them are my best friends in Winnipeg, and it would be really tough for me to picture my life without them."
Visit BellMTSIceplex.com/JHDPrograms to see all of the programs Hovi and the JHD team offer, including a Female Shooting and Scoring program that has been designed and will be run by Hovi in April and May.