The team is greater than the sum of its players. Every person has a role. When one person succeeds, we all succeed. Sounds like a great pre-game pep talk from an inspiring coach.
Instead, those were the words of David Sattler, the general manager of the hockey for all centre, as he described his job and his team of Iceplex employees.
Unsurprisingly, Sattler has a huge passion for sports. In his own words, he played "basically anything that involved a team" growing up. He's done some coaching too, so inspirational team quotes come naturally to him.
"Sports has an interesting way of teaching life lessons that school or other things can't," said Sattler. "There's team building, respect, sportsmanship, self-confidence and self-awareness. Those are all really good things to learn through sport."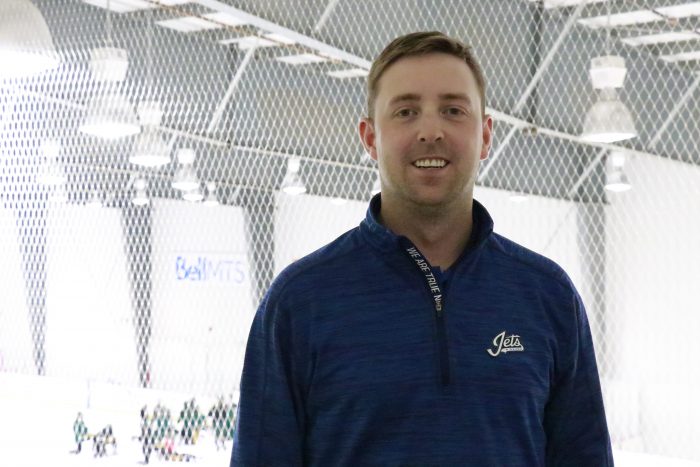 See what we mean?
While Sattler isn't coaching any on-ice teams, he's bringing a coaching mentality to his GM role Iceplex. You can tell Sattler is quite excited about the role and his team.
"Our team at the Iceplex is very skilled at their craft," noted Sattler, who has been in this position at the Iceplex since July. "Watching them apply their trade is rewarding; watching them grow, try new things, look outside the box for solutions to problems and step outside their comfort zone."
Sattler notes he's worked on great teams before, most recently at Stride Place in Portage la Prairie prior to joining the Iceplex in summer 2019, where he served for two years as an accounting clerk and six more as general manager for the facility that includes two rinks, an indoor and outdoor pool, a fitness centre, meeting rooms, 29 sports fields and a campground.
Sattler now enjoys the challenges of running the hockey for all centre, including leading more employees and managing a facility that is both privately owned and a vibrant community gathering space.
"This is a big building and there's a lot going on, which is challenging. There are plenty of competing interests. Understanding what our goals are, and what our strategy is are important things. As much as it is privately owned, it's a community facility, and we want to make sure that everyone is coming in and enjoying this place."
The Iceplex's reputation as the home of community hockey in Manitoba is an integral one. But the Iceplex also holds the distinction of being a Hockey Canada Centre of Excellence and a high-performance training facility, where Olympic and NHL athletes come to train.
"On the high-performance side, we know that there are some very talented players growing up in Winnipeg and Manitoba, and their goal is to play at the highest level possible," said Sattler. "We have the resources with our coaches and our trainers to get them there, from Focus Fitness (industry-leading strength and conditioning facility) to Jets Hockey Development (year-round, all-ages hockey development program) and the Ice Lab (Jets Hockey Development goalie training)."
For Sattler, it's important to keep the two reputations in balance. No matter what people are entering the building for, he knows each guest is just as important as the last, and he wants everybody to leave happy and wanting to come back.
"We want to make sure that whether you're a three-year-old kid coming to Learn to Skate, or if you're a 75-year-old grandparent coming to watch your grandchild play, the facility meets your expectations. From the moment people walk in, to the moment they leave, we need people to say, 'Wow! That was great!' We're lucky to have one of the newest facilities in all of Manitoba. There is a sense of community pride in that and people enjoy being here."
In his time at the Iceplex, Sattler and his team have already been trying new methods to ensure a superior guest experience. The Iceplex surveyed its 1,600 Iceplex Adult Hockey League (IAHL) members prior to the fall season to see what mattered to them and how the Iceplex team could improve their experience. The IAHL members responded and the Iceplex team acted. The first change that came was extending The Press Box restaurant hours so that teams can enjoy snacks and socializing following their games, along with offering team specials on food and beverages.
With a strategy of teamwork and listening to patrons, Sattler has a successful game plan in place, and is serving well in his first year as "coach" of the Iceplex staff.
"I truly believe that if we listen to our guests, from the youngest to the oldest and whether they are playing in the NHL or just starting to play hockey, we will succeed in more ways than we can imagine."
If you have comments or feedback on the facilities and programming at hockey for all centre, Sattler wants to hear from you – visit BellMTSIceplex.ca/CONTACT-US to share your thoughts.