If you go to the hockey for all centre website and visit the Jets Hockey Development (JHD) page, the first line you'll find in the description reads, "Jets Hockey Development is dedicated to providing every program participant the very best opportunity to develop as a hockey player and person." That may be a simple statement, and it may be obvious. But it may be an understatement when you consider the success of some of the athletes in their programs.
At the end of this past summer, four female hockey players who train at the Iceplex were named to the Hockey Canada National Women's Team Fall Festival roster. The list included goalie Kristen Campbell, as well as Halli Krzyzaniak, Brigette Lacquette, and Kati Tabin, who all play defence.
With the ultimate goal for these girls being playing for Team Canada at the Olympics, this is a big step for all of them in reaching that goal.
"Hockey Canada has a national program in non-Olympic years consisting of a larger roster of players, and players from that roster are called to compete at various tournaments like the Four Nations Cup or in the World Championships," said Dave Cameron, Head On-ice Instructor with JHD. "In Olympic years, they trim that roster down. So these women would be in that eligible spot to be called to different tournaments in non-Olympic years. Eventually, they're the ones who are being looked at for the Olympics."
Being named to the Team Canada roster is a big step, though only the most recent one. Many developmental steps have been taken in getting to this point for these four women, many of which have have been made at hockey for all centre. Just as it says on the Iceplex website, and in the Jets Hockey Development name, development is key.
"That's the goal – to help players continue to develop," noted Cameron. "On the female side we've seen players go from prep school teams, to university teams, to continuing to play professionally, to getting opportunities to play with the national program. For us, that's why we do this."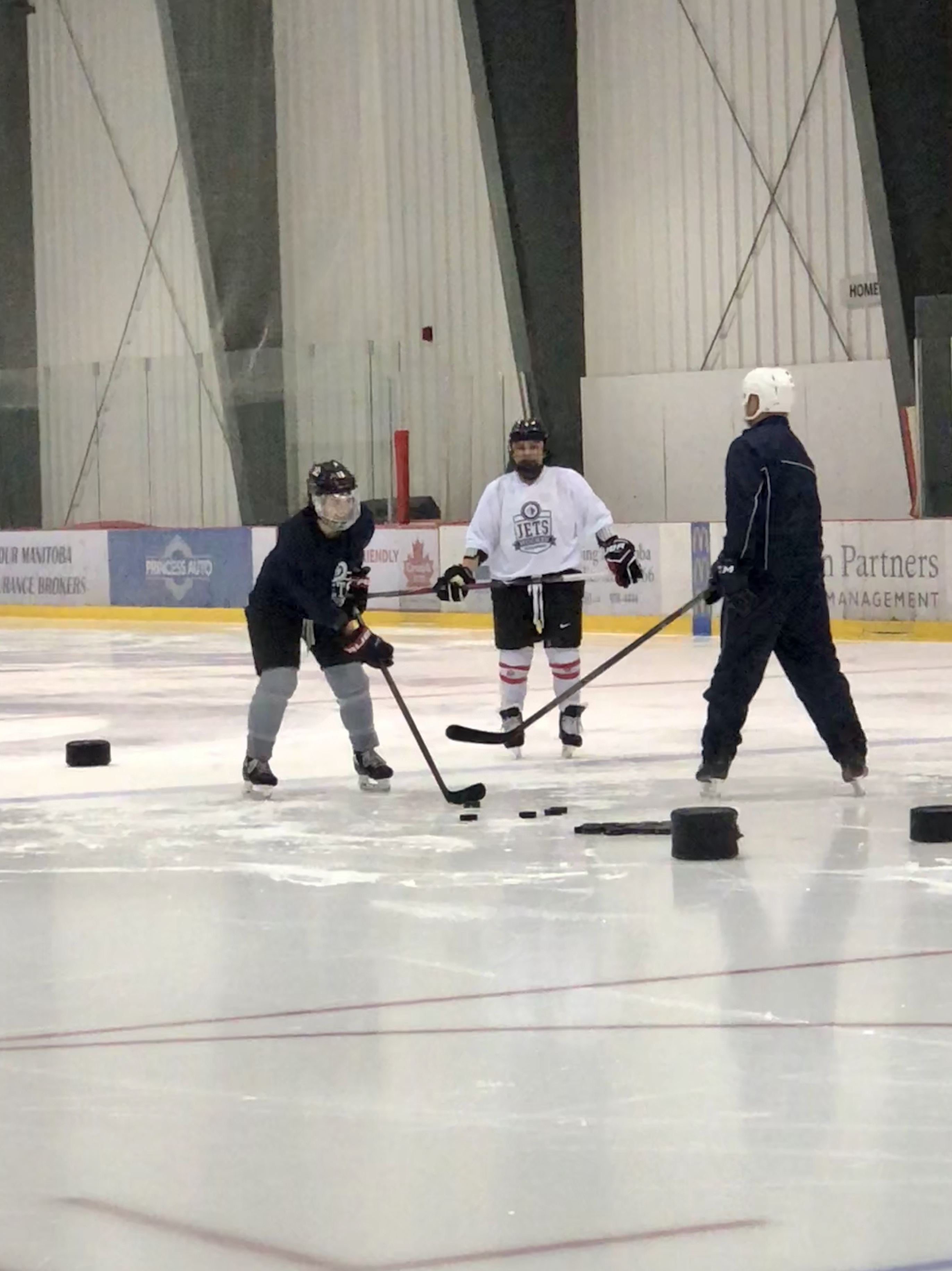 For Hockey Canada though, player development must be specific.
"What Team Canada looks for from these players is to be really detailed and specific in the training they're getting," said Cameron. "That can be really detailed skating work, detailed passing and pass reception, or shooting drills for the forwards. And then they want to have situations that lead into things that they're going to see in games, so that when they get into games, they're really comfortable with things."
Having high-level coaches who know exactly what is being required of these players to reach the highest level is a huge advantage. It's tough to beat the tailored practices designed to focus on  the exact skills and drills they need to improve on, making it no wonder these women keep coming back to the Iceplex to train.
"I've been fortunate to work with Dave over a long period of my career and I really value his input on my game," said Krzyzaniak, who has also coached with JHD on a part-time basis. "The coaches at the Iceplex are very good at customizing sessions based on your needs and what you want to add to your skillset, which I think is part of what makes them so effective. Another thing is the passion and energy that they bring to the game, which helps you get through some tough sessions."
Campbell, who currently plays at the University of Wisconsin and led the team to a national championship this past spring, has been training at the Iceplex for five years with JHD's Manager of Goalie Development Andy Kollar and speaks just as highly of her experience training at the venue.
"Andy has been amazing in working with me on my game," said Campbell. "He has such a calming presence and I find his personality allows me to learn better and perform better. We talk a lot about the mental side of the game during our training sessions and he has helped elevate my mental game. We always stay in touch while I'm at college too. Working one-on-one with Andy has allowed me to make adjustments to my game and hone in on details that were separating me from reaching the next level."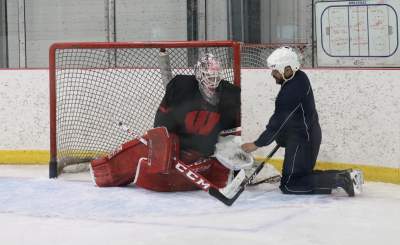 The players may have a lot of confidence in the JHD coaches, but that's rivalled by the amount of confidence their coaches have in them.
"I feel like Kristen is the next Olympic goalie," said Kollar. "I feel that strongly of her skillset. Her crease movements, stance, and knowledge are amazing. The best reference I can make is that people say when Toronto Blue Jays third baseman Vladimir Guerrero Jr. hits a baseball, it's a different sound off the bat because he hits so hard. When Kristen skates and when she pushes off in her crease, it's just a different sound on the ice. It's so powerful and explosive, yet balanced and controlled."
For Cameron, he knows how hard each of these players have worked, and it's their knowledge of the process that gives him confidence.
"These players are great examples of when you stick with it, you follow the plan, and you trust the people that you're with, great things can happen."
But there's one attribute that is consistent across all of these women – hard work.
"Kids can learn from the fact that every time Kristen comes on the ice, she's there to work," said Kollar. "She makes me work harder and it sets a great example for everybody else."
"These women really show a lot of our other players what hard work looks like, what dedication looks like, and what attention to detail and positive attitudes look like," said Cameron. "When they come, they're willing to work and to be open to getting better. There's no arrogance or anything like that. That stands out to the high school players and younger college players who get to skate with them on occasion, it stands out to their parents, and it's really noticeable when these players come out for training."