I was extremely fortunate to be invited as a skills coach for the Under 17 Hockey Canada Development Camp from July 25th – 30th.  There were 111 players invited who were split into 6 teams for the camp.  I was working with 2 teams, Team Black  and Team Blue to help in their development as players.  A lot was asked of myself (working with the D men) and Daniel Tzaczuk (working with the forwards).
D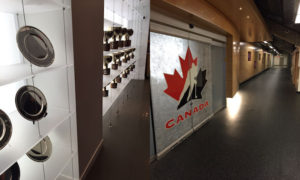 ay 1 – July 25th
All the coaches, trainers, medical staff, mental performance staff and camp coaches arrived into Calgary.  We were transported to our dorm at the U of C and then to WinSport Arena home of Hockey Canada for welcome meetings and staff meetings. Our initial coaches meeting was held in the Hall of Champions which is like a room out of the Hockey Hall of Fame with all the trophies. It showed us that we were now at a different level and our coaching had to be at its best.  Our coaching staff had talked at length before out arrival, but this was the first meeting face
to face for many of us.  We met until late that night to make sure we were prepared for the player's arrival.
Day 2 – July 26th
As players arrived into Calgary, we greeted them at the dorms.  We had a quick team meeting to lay out some ground rules and introduce our staff and then made our way to the WinSport Arena.  Throughout the evening, players went through physicals, equipment fitting, medicals, pictures, etc. As coaches, this was a great time for us to get to know some of the players a
nd put faces to a name. With many busy days ahead, the players were given their schedules to prepare, highlighting their on-ice sessions, off-ice testing, mental training, stress management, media training, equipment showings, nutrition, team video sessions and more.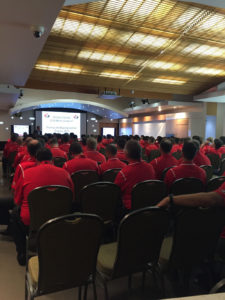 Day 3 – July 27th
Dan and I were asked to lead the first day of practice to "set the tone" for the week. We planned the first 30 minutes where Dan put the players through skill work. The following 30 minutes were built off of what Dan had done, having the D men and Forwards split to work through position specific drills. Players loved the tempo of the first skate and it really allowed us to break some of the nerves they had.
The second skate of the day had players going through their on-ice testing with players testing both with and without a puck in forward speed, backward speed, transition skating and weave agility.
Day 4 – July 28th
I was asked to lead the first 20 minutes of practice with dedicated work to lead into our offensive practice.  We focused on quick puck movement which worked well leading into the offensive rushes and regroups we were working on.  Assistant Coach Dave Struch (Regina Pats – WHL) did a great job to explain how our team would be looking to attack.  We finished the session with some work with the D men on finding shooting lanes and creating offense from the blue line.
After a busy day of lectures, players came back on the ice for their positional practice. Dan took all the forwards while I was able to work for 90 minutes with the 12 D men from Team Black and Team Blue. We focused on skating and mobility, puck movement (working to eliminate extra stickhandles), partner support and movement and shooting from the point (build off day 3). After a long day players were exhausted and ready for bed!
Day 5 – July 29th
Dan Tkaczuk was asked to lead the first 20 minutes of practice with topics that would lead into our defensive practice.  He focused on a lot of skating work followed by a quick stickhandling and shooting circuit. Chris Dennis (York University) lead a great practice focusing on tracking pucks, defensive positioning and defensive support.  This was a tough practice for some players as a few concepts were new but they learned quickly how important these skills were.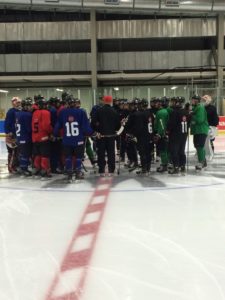 The second session of the day was a small area games session where we had both Team Black and Team Blue on the ice.  Players played a variety of games with some 1 vs 1, 2 vs 2, 4 vs 4, face-off battles and even some PP and PK work.  Players worked extremely hard and competed for the full 90 min.
July 6 – July 30th
Game Day …. Starting with a morning skate for Team Black where the guys had an upbeat 30 minute skate followed by 15 min of positional work with the forwards and D men. Team Blue was next where they followed a similar set up for practice.  This was the end of our work in preparation as the rest was now up to the players to perform. Dan and I headed to the airport where we watched the game online. Both Team Black and Team Blue came away with wins.
The teams played 2 more days of games without the skills coaches present.  Team Black ended up winning the mini tournament with Team Blue finishing 4th. This was an incredible learning experience for me to be able to work in that environment. I am honored to have been able to help with Team Canada's U17 preparation for the tournament in October.  I wish all the players all the best this upcoming season and we will be cheering loud from Winnipeg!
-Dave Cameron, Jets Hockey Development Head On-Ice Instructor & Program Manager