Over the past few months, Jets Hockey Development has been happy to welcome two new faces to the coaching team, Devin Himpe and Venla Hovi. As players gear up and prepare for the upcoming season, we sat down with Coach Devin to get to know him a little bit better and introduce one of our newest coaches and welcome him to the team.
What's your earliest hockey memory?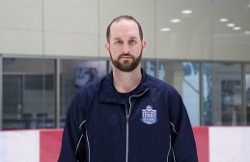 My earliest hockey memory would be with my friends during Stick & Puck. I remember my friend, who was a very smooth skater, teaching me how to stop with both feet at a young age. I also remember always being at the outdoor rink, throwing the sticks in the middle to scrimmage with everyone.
Take me through your hockey playing career. Where did you all play?
I grew up in Dauphin, MB and played minor hockey with the Parkland Rangers. Growing up I always watched and wanted to play for the Dauphin Kings of the MJHL. When I was 18 years old, I made the Kings roster, but after a few months of playing, I decided to move to Winnipeg to further my education. After a short break from hockey, I realized how much I missed being part of a team, so I joined the Fort Garry Twins of the MMJHL where I played out my junior hockey career – narrowly missing a championship in 2008 after losing in quadruple overtime of game 7. I then tried out for the University of Manitoba Bisons, where I connected with the coaching staff and am now in my 5th year as an assistant coach.
You represented Canada at the Winter Universiade in Russia in March. What was that experience like?
Being able to represent Canada at a multi-sport event was an unbelievable experience. Being in another country for hockey is a cool experience to begin with but the atmosphere in Russia, with all the other sports, athletes, and fans being there only heightened the excitement. The best part about the experience was how fast our team came together on and off the ice. It was crazy to see how young athletes can work together when they had just met each other days before the event.
You've spent a lot of time coaching grassroots and university hockey. What is the biggest difference in coaching those two levels of hockey?
The biggest difference between the grassroots and university level is of course the skill level, but also how to teach skills at the different levels. The same basics apply, especially when teaching skills. You want the players to stay focused and involved in what you are trying to teach them, but finding different ways to teach the same skills to various age groups is what makes it fun. You can start adding more advanced skills at higher levels, but if players don't work hard at the basics then you need to find a new way to get through to them.
What is your favourite drill to run as a coach?
As an assistant coach with the Bison Men's hockey team I have a drill named after me called the 'Himpe Transition' so I may be biased toward that one. It started when I was in my first year as an assistant coach with the team. Mike Sirant (head coach) asked me to come up with and teach a drill with progressions to add on later. After I ran the drill a few too many times with progressions, one of the players asked me if we were doing the "Himpe Transition" and the name stuck!
What is your favourite pre-game meal or snack?
My favourite pre-game meal when I was playing was chicken, rice, and vegetables. Now, as a coach, I usually eat the same as the players, but we sometimes like to sneak an ice cream in after pre-game meals.
What is the most important skill for hockey players today?
If a player can't skate well, they should be working at it as much as possible. Being a great skater doesn't necessarily mean you need to be the fastest player on the ice but knowing where to be in certain situations and being able to get there fast is key.
What is the best way for a young hockey player to work on their speed?
Play other sports. I am a huge advocate of building athletes, not just hockey players. Getting on the ice and working on stride/agility under proper instruction in important but I believe that playing other sports that involve moving your feet quicker and building your fast-twitch muscles will help overall speed.
What is your favourite hockey movie?
It's hard to beat Slap Shot, but when I was young the Mighty Ducks movies were always fun to watch. I have also had a few small parts in both Goon and The Don Cherry Story, so those two are my modern era favourites.
What is the most important thing you have learned as a coach thus far?
That you never stop learning, whether it is from other coaches or players. I think our sport is great in that it's always evolving and getting faster. We as coaches need to figure out how we can evolve and get players thinking faster and executing faster.
What will young players take away from a session with you at Jets Hockey Development?
I try to spend each session focusing on a couple of key points. I will break a skill down to its basic form and build it up. By the end of the session, the goal is to be able to use that skill in a drill with speed.
When you see Devin at the Iceplex, make sure to say hello and welcome him to the team! Players can work with Coach Devin on the ice in the Jets Hockey Development Summer Development Programs or in private or team training sessions this fall.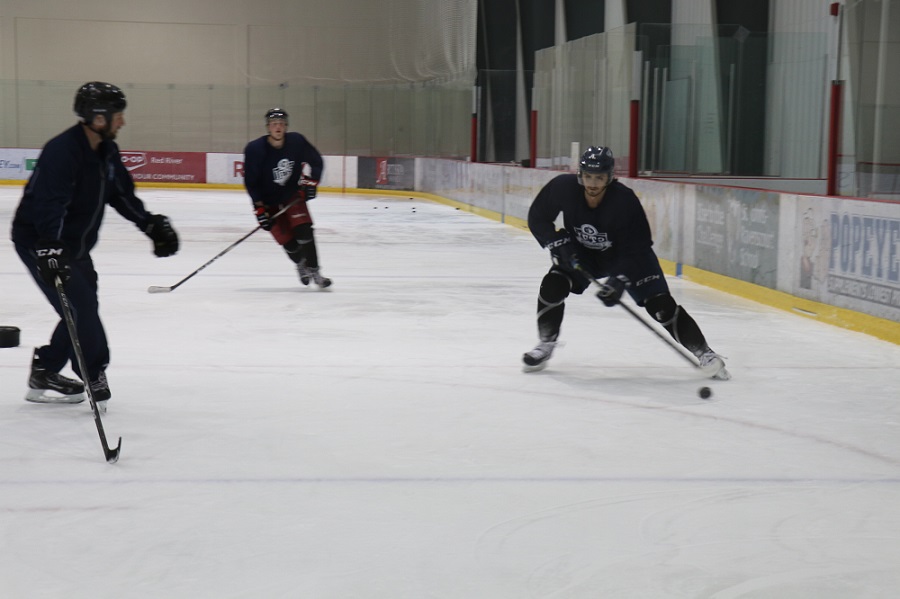 Stay tuned for more stories from hockey for all centre and sign up for Iceplex news and information at www.nhl.com/jets/fans/jets-mail and check "hockey for all centre".