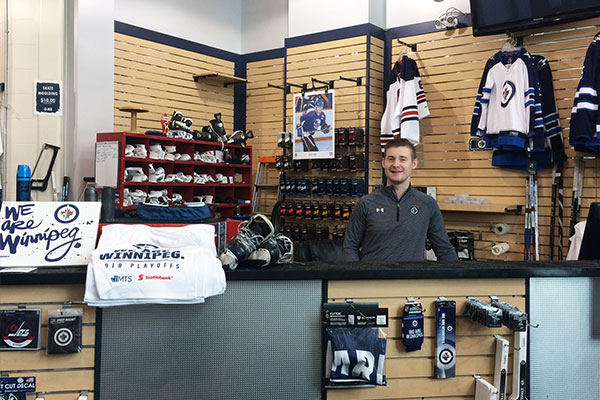 The hockey for all centre is known as the rink to go to for minor hockey in Winnipeg, and the Jets Gear Pro Shop inside the Iceplex is also growing in popularity as a source for Jets Gear and hockey equipment services.
Though they have all of the hottest Jets and Moose apparel, skate sharpening, equipment repair services and Winnipeg Jets game used sticks, shafts, and blades are what keep the Pro Shop ticking. Store manager Jeff Borse says that the Iceplex's four hockey rinks bring in most of their clients and that the Jets Gear Pro Shop is also gaining loyal and discerning customers that last year brought in 11,517 pair of skates for sharpening.
"We don't have a large turnaround in employees," said Borse of the Pro Shop. "Hockey players can be picky and if they get one good skate sharpening, they'll stick with that person and not just the location. So all the guys in the store have their customers come in to check if they're around when they bring in their skates. But it's also out of convenience, given that we have four rinks, and there's usually something going on here."
Though they provide a high level of service, their prices don't reflect it. The cost of the Pro Shop's services are right on par with any other skate sharpening and equipment repair outlets in the city.
And, it's not just their equipment services that are drawing people in. Their merchandise, and intimate location is also attracting customers.
"People are starting to realize that we have a spot out here, and that it's secluded and not as crazy as the malls," noted Borse. "It's more one-to-one because it's a smaller store. You walk in and you don't have to look for people to help you. We're right here in front of you."
The fact that the Pro Shop is set in a hockey environment adds to the allure of it too. Whether it's the Winnipeg Jets Hockey Academy, hockey tournaments, the Manitoba Moose, or the Winnipeg Jets, it seems like the Iceplex is always filled with hockey players, making it the kind of place you want to go to for pro services and Jets apparel, just to be a part of the atmosphere. Surrounded by hockey and with a knowledgeable and experienced team, the Pro Shop can only expect that word will continue to grow.